I'm just starting to get into the festive mood and have been experimenting with a new recipe, that feels indulgent whilst also being healthy.  
As the stresses of the Christmas season ramps up,  you'll love the chocolately comfort of these overnight oats to kick start your morning.  The combining of chocolate and raspberries reminds me of the chocolate roulade I make at Christmas, which unfortunately isn't quite so healthy!  
The oats in this recipe provide a slow release of carbohydrate and fibre to help keep you feeling full through the morning as you run around Christmas shopping. 
Brazil nuts are little powerhouses of nutrients that our bodies love.  Just one brazil nut can provide your recommended daily allowance of selenium.  Selenium is really important to help support your immune function and it also helps to boost your mood.  Your body will need some extra support during the stresses of Christmas.  As well as the oats in this breakfast, the Brazil Nuts can also help support healthy cholesterol levels. 
The raspberries and cocoa are packed full of flavonoids and antioxidants.  These beauties also help to reduce inflammation in the body.  Inflammation is linked to just about every disease that affects the body, particularly cancer, heart disease and diabetes.  Inflammation also causes premature aging so eating raspberries for breakfast will give your skin an added glow.   Raspberries are also a good source of Vitamin C and magnesium, which again help support our immune systems and our bone health. 
So, whip up a batch of these Overnight Oats to give yourself a Christmas boost.  You can top them off with a sprinkle of edible glitter to really get the party started!  
Don't feel limited to only eating these for breakfast, they make a great healthy snack or evening treat! 
xx Janine 
If you'd like another overnight oats recipe you could try my Plum and ginger overnight oats
I hope you enjoy this recipe.  Let me know in the comments below what you think. 
P.S.  Here are two other ways I can help you get healthier
1.  Sign up for my newsletter and get my awesome meal planning pack absolutely free Just click here.
2.  Join my Facebook Group for weekly healthy habit challenges, recipes and tips Join here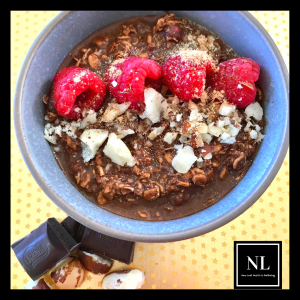 Festive Chocolate, Raspberry, Brazil Nut Overnight Oats
This is a wonderful, indulgent and chocolately overnight oats recipes to help kickstart your mornings during the festive season.
Ingredients
1

cup

rolled oats

2

tbsp

cocoa powder

10

whole brazil nuts

crushed

pinch

ground cinnamon

125g

fresh or frozen raspberries

1

cup

milk of choice

2

tbsp

maple syrup
Instructions
Mix the dry ingredients together in a bowl.

To crush the brazil nuts, place them in a sturdy plastic bag, folding over the top. Bash them gently with a rolling pin - this is very stress relieving!

Add 2/3 of the raspberries - if using fresh raspberries, break them in half. If they are frozen then just add whole.

Add milk and maple syrup.

Mix all the ingredients together well.

Cover the bowl with clingfilm or a suitable cover and leave in the fridge overnight.

Serve with the 1/3 of raspberries left as garnish on the top, together with some extra crushed brazil nuts if desired. You can also sprinkle over some edible glitter to add to the festive feel.