Hello everybody – did you know that October is World Menopause Month?
The theme this year is cognition and mood.
To celebrate I thought I would share my Meno Busting Mango & Coconut Overnight Oats, because science shows that what you eat can influence your mood and symptoms.
Do you find yourself suffering from brain fog, anxiety, mood swings, feeling overwhelmed, worried, fatigued?
To keep your body stable and balanced you need a vast array of nutrients and the main way to acheive this is through the food you eat.
What does the brain need to keep stable and balanced?
Surprisingly the brain needs sugar or glucose to provide energy. However, this isn't an excuse to eat cakes, sweets and sugary drinks. Unfortunately, all these foods do is provide a sugar surge which then rapidly decreases in the body, causing us to feel jittery, anxious, tired, and brain fogged. We need foods that actually help to keep our blood sugar levels balanced and stable.
So what do you need to eat?
Wholegrain foods such as wholegrain breads, wholegrain pasta, brown rice, barley, oats, beans, starchy vegetables i.e. potatoes, sweet potatoes and fruits, especially fruits with edible skin, are all complex carbohydrates which help to release sugar slowly into our blood stream.
We also need to combine protein with our complex carbohydrates.
Protein helps to slow down digestion and the release of sugars, again helping to keep our blood sugar levels stable.
Protein sources are:
Meat, fish, eggs, nuts, seeds, hummus, dairy, lentils, and tofu.
Protein also provides amino acids which are important nutrients in regulating our moods.
A couple of other meno busting foods are:
Flaxseeds/linseeds:
Research suggests that 40g of flaxseed can work as well as HRT for mild menopause symptoms such as hot flushes and mood swings. (Source: https://www.mountsinai.org) There is also research to suggest that they help to lower bad cholesterol levels, improve blood pressure and reduce cancer risks.
Soy Milk:
If you decide to add soy milk to your overnight oats then you will receive the benefit of phytoestrogens via the isoflavones present in soy products. Isoflavones are great hormone regulators which help to trick the body into thinking it still has oestogen present. Many of our menopause symptoms are due to dropping oestogen levels, so by tricking the body, we can help improve our symptoms. (Source: Manage your Menopause Naturally by Maryon Stewart).
One last final point – what should you avoid to help improve you mood?
Any food or drink that can disrupt your brain processes i.e. caffeine, alcohol and refined sugar – yeah I know!
If you are a coffee addict like me (or if sugar/alcohol are your thing) then try reducing or abstaining for at least two weeks and monitor how your symptoms change. If you see a noticable improvement then you can decide what's worse – going without or living with your symptoms.
So in summary, these Meno Busting Mango & Coconut Overnight Oats include complex carbohydrates, protein, flaxseeds, and soy milk which will all help to balance your blood sugar, which in turn will help stablise your mood and menopause symptoms.
Extra bonus tip:
Look out for whole foods like nuts, seeds, shredded coconut, dried fruits etc in shops like Aldi, where they are often much cheaper than in other large supermarket stores.
So, give these overnight oats a go and let me know what you think in the comments below.
I hope you love this tropical breakfast as much as I do! xx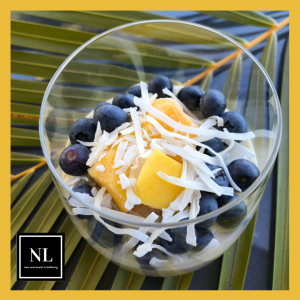 Meno Busting Mango and Coconut Overnight Oats
This healthy breakfast recipe will set you up for the day and help reduce menopause mood swings and sugar cravings.
Ingredients
1

cup

Rolled Oats

1

cup

milk of choice

soy milk is a good option

1

cup

frozen mango

defrost if time permits

1

tbsp

flaxseeds/linseeds

2

tbsp

course shredded coconut

2

tbsp

Natural Greek Yogurt

1

tsp

vanilla essence

2

tbsp

runny honey
Instructions
Place the frozen mango in a bowl and allow to defrost.

When the mango is soft, mash coarsely with a fork. If you are short on time, you can leave the mango frozen, but then break the chunks down before serving.

Add rest of the ingredients and mix well.

Cover and leave overnight in the fridge before serving.