Hello everybody,
I hope you are all well and have been enjoying lots of tasty food – I certainly have! 
First up I have been CREATING in the kitchen and have my brand new Vegan Tropical Fruit Loaf recipe to share with you all.  It's super easy but you do need to get it all started the night before you want to bake it.  
I love a good fruit cake but sometimes they can be a little heavy in the summer months.  I hope you will find my Vegan Tropical Fruit Loaf a beautifully light alternative that is full of fruity flavour.  I know it kind of defeats the healthyness of it, but I often pop slices in the toaster to smother with butter!  Very yummy with a cup of tea in the afternoon 🙂
I'm also in the taste test process of creating a new recipe for tiramisu breakfast overnight oats.  I'll share the recipe very soon. 
I've been making Jamie Oliver chocolate pots. I usually make the more ganache type version but this week I made the mousse version.  They were a big hit so I will be making them again this weekend.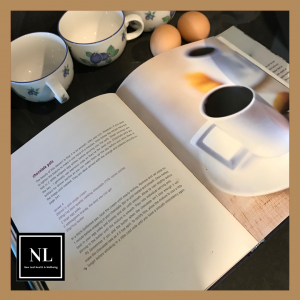 I also made profiteroles from scratch but cheated by filling them with the squirty cream you can buy in canisters.  They were pretty good but the cream was a little too light and airy so it didn't feel like you got a good mouthful of cream.  If I was making them for guests I would use proper whipped cream but my shortcut was fine for a family meal.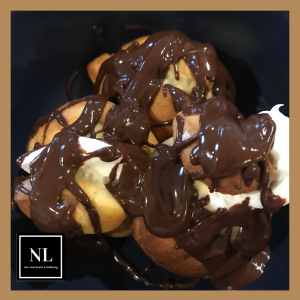 I usually bake a cake at the weekend for my kids and husband to snack on during the week. This week it was my Somerset apple cake as I had a few soft apples left at the bottom of the fridge – you can get my recipe HERE
I also made these banana and white chocolate cookies, to use up an overripe banana.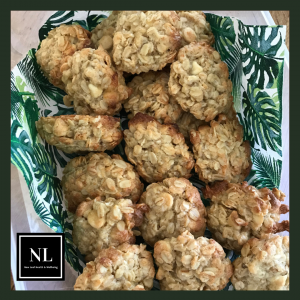 For my morning teas, I've been snacking on my date and pecan oat balls – recipe HERE
Here's my meal for this week to help provide you with some inspiration if you want to take up this helpful, healthy habit.  Don't forget you can download my free meal planning guide HERE
This Week's Meal Plan:
Other Food News: 
I love receiving Sophie Hanson's Monday newsletter by email which is full of lovely food and home ideas.  You can sign up HERE
I've been listening to:
The latest episode of Table Manners.  Mother and daughter hosts Jessie and Lennie Ware interviewed and fed Pink to kick off the start of their new season.   This is a light chatty type of interview technique which always brightens my school run.  Check it out
HERE
I also loved this episode from Polly Alexandre interviewing Lana Love of Passion Cafe, a popular restaurant in Ibiza.  Lana was so full of love for the food she produces (she has the right surname!), you could really feel her passion coming through the airwaves.  Check it out
HERE
Don't forget to check out the other great blog posts in this link up party HERE to get some more foodie ideas and recipes. 
Thanks to the following ladies for inspiring me to keep blogging and for organsing this link up:
Donna @ Retirement Reflections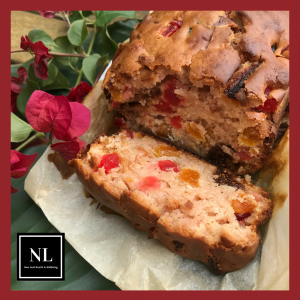 Vegan Tropical Fruit Cake
This fruit cake is light, but super fruity, perfect for a summer picnic or stomp across the hills. Alternatively you can toast it and smother with butter to enjoy with a good cup of tea by the fire on a chilly day.
Ingredients
1

cup

dried apricots halved

1/2

cup

chopped dried figs

remember to remove the woody stalks

1/2

cup

dried chopped papaya

1/2

cup

brown sugar

1

tsp

ground cinnamon

2

cups

self raising flour

1 3/4

cups

coconut cream
Instructions
The night before you are due to bake the loaf, place all the dry ingredients into a bowl.

Mix in 1 1/2 cups of the coconut cream.

Stir well to combine all the ingredients.

Cover the bowl and place in the fridge overnight

When you are ready to bake your cake, pre heat the oven at 190C (170C for fan forced)

Grease and line your loaf pan (10 x 20 x 10 cm)

Stand the mixture at room temperature for 10 minutes

Add the remaining coconut cream and mix well.

Pour mixture into the loaf tin.

Bake for 1 hour or until a skewer inserted in the middle comes out clean.

Stand for 5 minutes before turning out.