I developed this recipe for overnight oats a little while ago but haven't had a chance to share it with you.
As you have probably guessed, breakfast is one of my favourite meals ….  well yes OK,  IT IS my favourite meal!  
It didn't used to be. When I was younger I would often skip breakfast completely.  In hindsight though it meant that by mid morning I was starving and would usually head to the local bakery for a sugar hit from a chelsea bun or custard doughnut.  As we are now much more aware, this fat and sugar combo completely messes with our blood sugar levels.  This habit would often leave me feeling tired and craving more sugar by 3pm, notwithstanding lunch inbetween.
So, now I make sure I always try to have a filling and nutrious breakfast.  
One of the easiests breakfasts in my opinion are overnight oats.  You make them up the night before (plus if you make a big batch it lasts 3-4 days) and then it's ready to serve in the morning without any faff.  If you choose, you can add some sliced fruit on top, plus you can pre-serve them into portable pots to take to work, school, uni, where-ever.  
In addition to the convenience of overnight oats, they provide a bucket load of healthy benefits:
1. Oats are great for controlling blood sugar, cholesteroral and for keeping you feeling full.
2. Turmeric is renowned for being anti-inflammatory,  helping to fight free radicals which damage our cells.  This means it may help reduce arthritis symptoms and also may reduce the risk of Alzheimers, heart disease and cancer.  
3. Walnuts – they look like brains and are good for our brains!  Each one is packed with Omega 3 fats plus they are high in antioxidants.  Again they may help reduce the risk of some cancers, they are good for your gut and can help manage diabetes, weight and blood pressure.  This means they pack a heafty punch in a minature size. 
4. Seeds – again great for providing protein and healthy fats.  Feel free to subsitute your preferred seeds – chia or flaxseeds would work well in these overnight oats. 
5. Orange – obviously a great source of Vit C and it also provides a wonderful, citrus freshness to wake you up in the morning.
So, give these overnight oats a go and let me know what you think in the comments below.
I hope you soon love breakfast as much as I do!    xx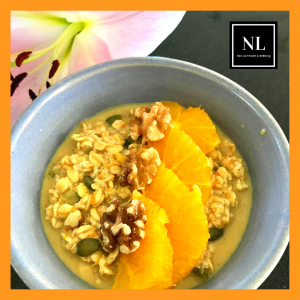 Orange, Turmeric and Walnut Overnight Oats
This is an easy, nutrious breakfast to help fuel your day. The fresh citrus flavour from the orange provides a wake up call to your tastebuds. The nuts, seeds and oats keep you feeling full for the morning and provide an excellent source of carbohydrate, healthy fats, vitamins and nutrients to keep you firing on all cylinders!
Ingredients
1

cup

oats (rolled)

1

cup

milk of choice

3/4

tsp

ground Turmeric

1/2

tsp

ground cinnamon

1

tbsp

pumpkin seeds

1

tbsp

sunflower seeds

1/2

cup

chopped walnuts

1

medium

orange

2

tbsp

honey
Instructions
Add the oats, milk, turmeric, cinnamon, walnuts, honey and seeds into a mixing bowl or container.

zest the peel from the orange and add to the mixture.

Squeeze half the orange juice and add to the mixture.

Stir the mixture well before sealing/covering and placing in the fridge overnight.

In the morning, before serving, peel and chop the remaining orange.

Divide the overnight oats into bowls and top with the chopped orange (or any other fruit of choice)
Notes
Leftovers: 
Refridgerate in an airtight container for up to four days.
Additional Toppings:
Crushed nuts, hemp seeds, coconut flakes, fruit or nut butter.