This week's recipe is for Banana Bread Bites.
I had a slight panic this morning as I couldn't find where I had put this recipe.  I searched everywhere!   When I'm in the kitchen developing recipes, I tend to write the ingredients down on a scrap of paper as i work.  Then I usually test the recipe two or three times before publishing on my website.  My scrap of paper therefore kicks around in the kitchen for days to weeks depending how much time I have for cooking.  Probably not the best work method in the world!  Thankfully I found it, tucked in a 'safe' place.  
These banana bread bites are a healthy snack idea for you to prepare for your morning coffee breaks.  I think most people love banana bread loaf.  I certainly do.  Here in Australia it is especially popular in the cafes, toasted with melted butter.  Very yummy but less appealing for my waistline.  So, I thought a healthy alternative would be a good idea.  
Oats
As with most of my snack bites I've incorporated rolled oats.  I love including oats as they are really good for our gut.  Most of us don't eat enough fibre, so combined with the mashed banana they provide a little fibre boost.  The oats break down into a soluble fibre which absorbs water to make a sticky, gloopy gel substance which mops up all the waste deposits that get stuck in our guts, sweeping everything out.  They also make fermentable fibre which helps feed our 'good' gut bacteria.  Oats can also help control blood sugar and cholesterol levels and help to keep you feeling full.
Banana
In addition to fibre, the banana is a great source of potassium.  Potassium is needed in the body to help maintain normal fluid balance within cells.  It also helps with nerve signals and muscle contraction.  I guess this explains why you always see athletes, such as tennis players eating bananas!.   Studies have shown that a high potassium intake lowers arterial blood pressure.  Other plant food sources for potassium include kiwi fruit, avocado, potato, spinach and cereals.   You can also find potassium in meat, fish, and dairy products. 
Walnuts
I have added in walnuts to provide some crunch and boost Omega 3 fat intake which is great for our brain health.  The peanut butter adds some healthy fats and protein.  
Cinnamon
Cinnamon is a great spice for flavouring as it containts antioxidants which provide anti-inflammatory benefits.  It's also great for calming the gut,  feeding our healthy gut bacteria, reducing blood pressure and blood sugars and provides anti-viral, anti-bacterial and anti-fungal properties. 
I hope you enjoy these banana bread bites – let me know in the comments below what you think.  
If you would like some more healthy snack ideas, why not give these ones a try too: 
Don't forget to sign up for my free newsletter HERE so you get all my recipes and blog posts delivered direct to your email inbox. 
I also have a wonderful, private Facebook Group where I share midlife tips and recipes to help keep you nourished and nurtured.  Just sign up HERE for the Midlife Challenge Group. 
Sending love xxx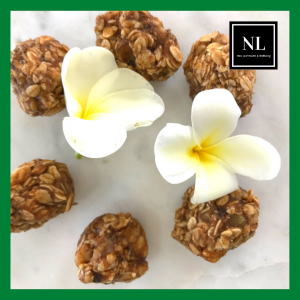 Banana Bread Bites
A quick and easy healthy snack that tastes like Banana Bread! Perfect for your morning coffee break.
Ingredients
1 1/2

cup

rolled oats

1

medium

ripe banana

mashed

1

tsp

ground cinnamon

1

tsp

vanilla essence

2

tbsp

maple syrup

1/2

cup

broken walnut pieces

1

tbsp

peanut butter
Instructions
Add all the ingredients to the mixing bowl and combine well.

Chill in the fridge for 10 minutes

Then taking a teaspoon of mixture at a time, roll into balls.
Notes
Keep refrigerated for 3-4 days in an airtight container.
If the mixture seems too wet, add some more oats - if too dry then add a little more peanut butter.
You want to aim for a reasonably soft ball to replicate the spongy, softness of a slice of banana bread!