Hello Everybody, 
One of the biggest downfalls for anyone trying to be healthier is controlling snacking habits.  There are just so many lovely goodies on offer in the supermarkets these days.  
To help me control my snacking cravings I firstly try to avoid buying processed snacks from the supermarket.  If they aren't in the cupboard, then we are less likely to crave them!
My second strategy is to try and make my own healthier versions.  
This is my latest recipe – Chocolate Mocha and Coconut bliss balls. 
I wanted to create a rich, decadent treat to enjoy in the evenings – a sort of healthier Ferrero Rocher.
This recipe took a couple of attempts.  For the first attempt I used peanut butter which was yummy, but I felt it overwhelmed the taste of the chocolate and other ingredients.   I have now adjusted it to use almond nut butter.  I realise though that this can be quite expensive, so feel free to stick with peanut butter if you prefer.  
I popped some sunflower and pumpkin seeds in to provide a gentle, crunchy texture.  They also provide oodles of healthy nutrients such as magnesium, manganese, zinc, copper, Vitamin E and linoleic fatty acids. You could subsitute these for some chopped almonds if you wish, which are equally healthy.
These little treats take no more than 15 minutes to whip up.  Pop them in the fridge in an airtight container and you're then ready for movie night!
If you'd like another snack idea how about trying my  Fruit n nut energy slice
I hope you enjoy this recipe.  Let me know in the comments below what you think. 
xx Janine 
P.S.  Here are two other ways I can help you get healtier
1.  Sign up for my newsletter and get my awesome meal planning pack absolutely free Just click here.
2.  Join my Facebook Group for weekly healthy habit challenges, recipes and tips Join here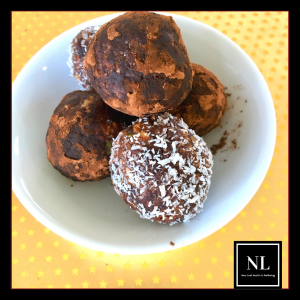 Chocolate Mocha and Coconut bliss balls
A decadent chocolate and coconut healthy snack you can whip up in less than 15 minutes. Great for those evenings in watching TV.
Ingredients
3

tbsp

almond nut butter

you can substitute for peanut butter

1

tbsp

runny honey

1/4

cup

desiccated coconut

1/4

cup

rolled oats

1/4

cup

sunflower seeds

can substitute for chopped almonds

2

tbsp

cocoa

1

tbsp

pumpkin seeds

can substitute for chopped almonds

1

tbsp

espresso or strong coffee

(this helps enhance the flavour of the chocolate)

some extra coconut and cocoa for coating the bliss balls at the end
Instructions
Mix all the ingredients together in a mixing bowl.

If the mixture is a little dry, add a splash of water (or coffee) a teaspoon at a time until it sticks together to form a dough.

Using a teaspoon, take heaped spoons of dough and then roll into balls using your hands.

Coat half the balls with desiccated coconut and half with cocoa.

Store in an airtight container in the fridge ready to munch whilst watching your favourite film!