These Fig, Raspberry and Pecan Pots are an adaptation of my previous recipe for Berry, Chocolate and Cinnamon Cheesecake Pots.  They make a great after dinner dessert or cheeky mid morning snack!  
I have to admit to being slow to appreciate the taste of fresh figs.  When I was younger I would eat dried figs but could never fully appreciate fresh figs.  They have quite an earthy,  sweet flavour which makes them pair well with honey and cheese.   
My conversion to fresh figs probably occurred through travelling in Italy.  Wandering through Italian markets in the summer months, there would be stalls piled high with fresh, succulent figs.  Italian restuarants utilise figs on their menus ranging from pizza toppings, wrapped in proscuitto with cheese, salads or in fig tarts for dessert.  Being exposed to new ways of eating figs helped me to begin to enjoy these ancients fruits.  Through my love of history, I also felt I could connect to the ancient Romans who depict figs as the ultimate decadance in their Roman banquets.  
So, what are the health benefits of figs? 
Figs are a fantastic source of calcium and magnesium which are important for healthy bones, especially as we hit midlife.  They also contain phosphorous which helps in the regrowth and strengthening of bones.   
They are full of antioxidants which help mop up free radicals, the waste products from our metabolism that cause aging and inflammation.  Research has found that the amount of polyphenols in figs, is greater than that in red wine and green tea.  
They contain high levels of potassium which helps to regulate blood pressure.  
As they are full of fibre they can help to make you feel full for longer, which is a great aid in weight loss.  The fibre also helps clear through the gut, removing excess cholesterol, helping to prevent heart disease.
Health benefits of raspberries
These fruits are full to the brim with healthy nutrients making them one of the healthiests fruits to include in your daily diet.  They are high in Vitamin C which helps support your immune system, skin and hair health.   Manganese and Vitamin K also play a role in supporting bone health.  Like figs, raspberries are high in antioxidants that have been linked to lower rates of heart disease,  diabetes, cancer and obesity.  They are low in sugar but high in fibre which helps to regulate blood sugar levels. 
Health benefits of ricotta cheese
Being made from whey or milk, ricotta cheese is a good source of protein.  It's also a source of selenium which protects the body from oxidative stress.   It's calcium content helps support healthy bones, nerve and muscle function. 
Health benefits of Pecans
Like many nuts, pecans are full of healthy fats, protein and nutrients.  They are a great source of zinc, which helps to support immune-cell development and function.  This is important for age related diseases.  Pecans help reduced cancer risk, inflammation, cholesterol levels and help control blood sugar levels. 
Health benefits of cinnamon
Cinnamon is a great spice for flavouring as it containts antioxidants which provide anti-inflammatory benefits.  It's also great for calming the gut,  feeding our healthy gut bacteria, reducing blood pressure and blood sugars and provides anti-viral, anti-bacterial and anti-fungal properties. 
I hope you enjoy these Fig, Raspberry and Pecan Pots – let me know in the comments below what you think.  
If you would like some more healthy dessert ideas, why not give these ones a try too: 
Don't forget to sign up for my free newsletter HERE so you get all my recipes and blog posts delivered direct to your email inbox. 
I also have a wonderful, private Facebook Group where I share midlife tips and recipes to help keep you nourished and nurtured.  Just sign up HERE for the Midlife Challenge Group. 
Sending love xxx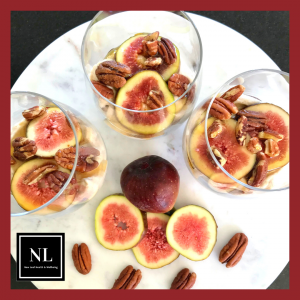 Fig, Raspberry and Pecan Pots
These healthy ricotta pots bring the earthy flavours of figs together with pecans and raspberries. They encapsulate a sense of lazy summer afternoons, Italian food markets and images of decadent Roman banquets!
Ingredients
Ricotta Layer
375g

Extra Smooth Ricotta cheese

1

tsp

vanilla essence

1

tsp

Ground Cinnamon

3

tbsp

Maple Syrup
Toppings
2

fresh figs sliced

3/4

cup

Raspberries (frozen or fresh)

1/2

cup

Pecans (chopped)

Drizzle of honey
Instructions
Mix together all the ingredients for the Ricotta layer in a mixing bowl.

Layer 3 pots (or dishes) with about 1cm deep layer of the ricotta cheese

Layer slices of half of the fig, chopped pecans and raspberries in each pot

Repeat the ricotta cheese layer

Repeat the fig, chopped pecans and raspberries layer.

Drizzle the top of each pot with honey.
Notes
Keep in the fridge for up to three days.