Hello Everybody,
This week I wanted to share a super easy, but indulgent healthy dessert:
Berry, Chocolate and Cinnamon Cheesecake Pots
When I was younger I had a very sweet tooth.  I blame it on my Great Aunts from Jersey feeding me French pattisserie cakes! In my teenage years I went through a phase of loving cheesecake – hmmm blackcurrant cheesecake 😉
Thankfully, as I've grown older my sweet tooth has subsided but I do still enjoy the odd dessert or a square of dark chocolate after dinner.  
As we hit midlife our metabolism alters.  This is because we begin to experience declining muscle mass.  Muscle mass consumes a lot of calories so when it begins to decline, we don't need to eat as much.  Many of us though are in the habit of eating certain foods and amounts of food.  When our body begins to change we need to adapt our eating habits too otherwise the weight starts to pile on. 
This is why it's important to ensure that the calories you eat contain as many nutrients as possible.  For this reason,  I try to ensure that any dessert I eat contains fruit, nuts, seeds and protein.  
So, I've included in these chocolate pots lots of juicy berries which are high in flavonoids.  These are known to protect blood vessels, reduce cholesterol oxidation, lower blood pressure and are anti-inflammatory.   The cocoa powder also adds a dose of anti-inflammatories and flavonoids.  
The ground almond meal is the nut source.  Almonds provide a source of healthy fats which again have been shown to help reduce cholesterol and protect the heart.  They also contain calcium and magnesium which are important for bone health, cell signalling and muscle function.  
Ricotta cheese is an Italian cheese made from the leftover whey from other cheese processes.  It has a lower fat content than cream cheese but still provides a good dose of protein for muscle growth.  The addition of cinnamon helps to sweeten the slightly tart flavour of the cheese.
Like all good things, moderation is the key.  These pots are still calorie dense so don't over indulge!  
Give them a try and let me know in the comments below what you think.
If you would like another dessert recipe how about Puff Pastry Plum Tarts.
Don't forget to sign up for my newletter to receive regular updates on recipes and healthy tips.  
Sending love to you all  xx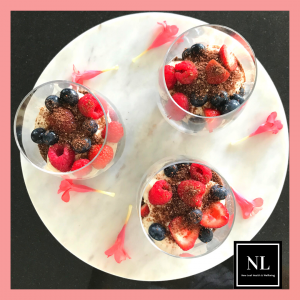 Berry, Chocolate and Cinnamon Cheesecake Pots
This is a really simple recipe to throw together but it makes a wonderfully indulgent dessert to share with friends and family.
Ingredients
Cheesecake Layer
375g

tub

Extra Smooth Ricotta Cheese

(1 1/2 cups/13 oz)

3

tbsp

maple syrup

1

tsp

vanilla essence

1

tsp

ground cinnamon
Chocolate Crumble Layer
1/2

cup

ground almond meal

(42g/1.5oz)

1

tbsp

cocoa powder

1

tbsp

desiccated coconut
Berry Layer
1/2

cup

blueberries

(85g/3oz)

1/2

cup

sliced strawberries

(85g/3oz)

1/2

cup

raspberries

(85g/3oz)
Instructions
In a mixing bowl mix together all the ingredients for the cheesecake layer until smooth.

In another small bowl mix together all the ingredients for the chocolate crumble

In the base of your choice of pots, place a layer of chocolate crumble, amount 1 cm thick

Then add a layer of cheesecake mix

Then sprinkly over a layer of the mixed berries

Repeat these layers again, reserving a small amount of chocolate crumble mix to sprinkle over the top of the final fruit layer as decoration.

Place the pots in the fridge to chill for about 30 minutes.
Notes
These pots will keep in the refridgerator for 3-4 days.  
You can substitute frozen berries for fresh but this will make the pots 'wetter'