Ginger and Honey Oat Balls is part of the #what'sonyourplate blog party
Happy New Year everybody!
Did you have an enjoyable Christmas and New Year?  I hope you got to enjoy sharing lots of yummy food with family and friends. 
I have to admit that all the Christmas preparations and celebrations completely wiped out my routines and plans for blog posts.   One of my favourite foods over Christmas that I wanted to share with you is Christmas cake.  
Every year I plan to write a blog post with my recipe but always run out of time around Christmas. I shall have to write it in September I think!  I usually make my cake in November and leave it maturing until December.  Our family tradition is for the children to decorate the cake with their own theme. They usually use fondant icing. This year's theme was the Polar Express.  Proud mum time – I think they did a good job!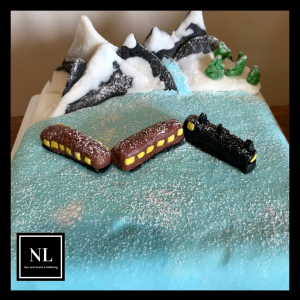 Our Christmas menu was:
Christmas Eve –
Starter: Smoked salmon blinis;
Main Course: Roast Pork, roast potatoes, Yorkshire puddings, pigs in blankets, carrots, mashed swede, broccoli, gravy and a Mushroom Wellington. 
Desserts: Chocolate puddings with melted chocolate centres and ice cream or trifle
Christmas Day: 
Breakfast: cooked breakfast with bacon, eggs, tomatoes and mushrooms or tropical yogurt pots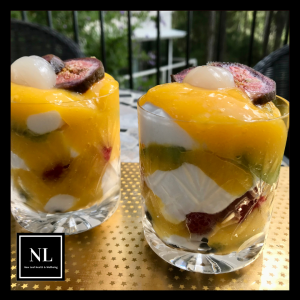 Starter: Charcuterie board with cheese, dips, crackers and cured meats.
The main event: Roast Turkey breast, Yorkshire puddings, pigs in blankets, roast potatoes, carrots, sweetcorn, cauliflower cheese, gravy. 
Desserts: Chocolate raspberry roulade, raspberry jellies, chocolate pots
Sorry no photos – I was either busy prepping or eating everything!
Our New Year was a bit more low key – the kids had a roast chicken and the adults had a prawn salad.  Desert was a chocolate bread pudding. 
So, now all that food has been devoured it's time to switch back to eating a bit healthier. 
Why not try these Ginger and Honey Oat Balls as your daily morning snack.  I usually make a batch up on a Sunday and then store them in the fridge, ready to grab whenever I fancy a little boost.
Ginger can help support our gut microbiome.  Research is increasingly showing that a healthy gut microbiome has a significant impact on our overall health from weight, metabolism and mental health.  Oats also support our gut and can help lower LDR cholesterol levels.
If you can buy natural, local honey you will also benefit from:
antioxidants – these can protect your cells from damage which can lead to inflammation, disease and aging.
antibacterial and antifungal benefits – again these can help to support your gut microbiome and protect against common minor infections.  I always dab honey on mouth ulcers which makes them disappear within 24 hours.  Honey can also help to soothe sore throats and coughs. 
So, give these Honey and Ginger Oat Balls a go.  I always try to make sure my recipes are as easy as possible to put together.  Let me know what you think in the comments below.
Linking up with Donna from Retirement Reflections and The Widow Badass Blog for the What's on your plate blog party.  Check out all the posts here – heads up there is a delicious looking Lemon Curd Pavlova recipe there.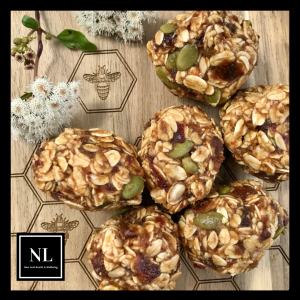 Ginger and Honey Oat Balls
These are a super healthy snack which you can make on a Sunday to keep you going throughout the week ahead. They are full of fibre together with ginger to support your gut health and honey to support your immune function.
Equipment
1 Mixing bowl

1 pestle and mortar

optional

1 Food Processor

optional
Ingredients
1

cup

rolled oats

3

tbsp

natural local runny honey

2

tsp

ground ginger

1

cup

chopped pitted dates

1

tbsp

sunflower seeds
Instructions
Soak the dry dates in hot water for 10 minutes then drain and mash or process in a food processor until mushy. Place into the mixing bowl.

Add the rest of the ingredients, and mix well.

Using a teaspoon sized measure of mixture, roll into bite size balls.

Place in an airtight container in the fridge

Stores for up to four to five days.
If you enjoyed these oat bites, why not try my other healthy snacks:
Orange and Apricot Chocolate Truffles
Why not sign up for my free newsletter HERE to receive all my recipes, blog posts and freebies straight to your inbox. 
I also have a motivational free private Facebook Group that you can join at Midlife Challenge