Hello everybody,
I'm back again with another breakfast dish – Pear, almond and raspberry overnight oats.
Yes, I know I'm always sharing overnight oats but in my view they just make a superb breakfast choice.  Plus this one is perfect for helping to manage blood pressure and cholesterol levels.   
You can make a batch up on Sunday, and then you have a yummy, healthy breakfast ready to grab every morning.  If you divide the mixture up into small, portable pots you can take them with you to eat on your commute or when you get to work.  
Overnight oats also make a great snack – I might occasionally sneak a spoonful when I'm nosing in the fridge!
This recipe combines the summery tastes of raspberries, with the autumnal juiciness of pears.  BTW, my dog loves stealing pears off the tree! 
The big dollop of Greek yogurt provides protein to help you feel full for the morning, plus combined with the milk, it helps to boost your calcuim intake.  If you are vegan though, you can replace these with your favourite plant based versions.  
In addition to the convenience of overnight oats, they provide a bucket load of healthy benefits:
1. Oats are great for controlling blood sugar, cholesterol and for keeping your belly feeling full. 
2. Pears are a great source of fibre, especially if you leave the skin on.  This fibre is great for your gut health, blood pressure and cholesterol.  They are also low in calories and help to keep your blood sugars under control. 
3. Raspberries are a good source of potassium which is essential for heart function and helps to lower blood pressure.  They also contain Omega-3 fatty acids which can help prevent stroke and heart disease.  
4. Almonds are a great source of magnesium.  Magnesium is essential for energy production and for healthy bones and muscles. 
5. Cinnamon – Can help to lower blood pressure,  manage blood sugar and the risk of Type 2 diabetes, helps to support gut health and is anti-viral/anti-bacterial to support your immune system. 
So give these blood pressure lowering overnight oats a go and let me know what you think in the comments below.
I hope you soon love breakfast as much as I do!    xx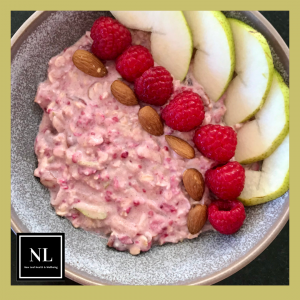 Pear, Almond and Raspberry Overnight Oats
These overnight oats combine summery raspberries with autumnal pears. They provide a beautiful healthy start to the hectic mornings of autumn and winter
Ingredients
1

Cup

rolled oats

1

Cup

milk of choice

2

Tbs

Natural Greek Yogurt (or plant based yogurt)

1

pear, cored and grated (skin left on)

1

Cup

frozen or fresh raspberries

2

Tbsps

maple syrup

1

Tsp

Ground cinnamon

1/2

Cup

whole almonds chopped
Instructions
Mix all the ingredients together in a bowl.

Cover the bowl and leave in the fridge overnight or for at least 6 hours before serving.