Hello everybody,
My latest recipe creation, Ricotta Tiramisu Overnight Pots, is a combination of my three loves – coffee, breakfast and a dessert all rolled into one!.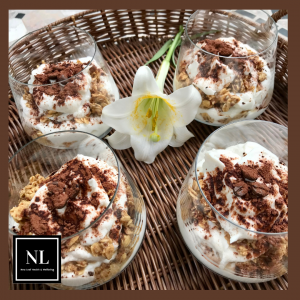 This recipe was inspired by fellow blogger Sue Loncaric at Women Living Well after 50.  She recently posted her healthy updated version of tiramisu Here.
I wanted to take things a step further and create a tiramisu that you can enjoy for breakfast, snack time and dessert.  
One of the main issues with tiramisu is the addition of cream because of its fat content.
I did a little research and found the following statistics for you:
Per 100g Serving:
Cream:
Fat: 35.4g of which 24.1g saturated fat and 2.2g Transfat
Coconut Yogurt:
Fat: 10.5g of which 9.9g saturated
Greek Yogurt:
Fat 7.6g of which 5.5g saturated fat and 1g transfat
Light Ricotta Cheese:
Fat 5.9g of which 4.9g saturated and less than 1g transfat
The final recipe for Ricotta Tiramisu Overnight Pots: 
So, after a few experiments I found that the taste value was better with the addition of Vanilla Coconut Yogurt but if you want to keep the fat content lower then it may be better to replace with Greek Yogurt mixed with 2 teaspoons of vanilla essence.  You can experiment with the vanilla to reach a taste your prefer.    
I've replaced the sponge element with rolled oats to boost fibre intake and because oats have been shown to help with weight loss, lower blood sugar levels, lower cholesterol levels and reduce heart disease.   
I've also added in some flaxseeds (linseed) and chia seeds as these are both excellent sources of Omega 3 fatty acids which help to reduce inflammation in the body.  They are also packed with phytoestrogens which can help to balance hormones – very helpful when our hormones are all over the place during menopause.  
Added to these health benefits are their ability to help control blood sugars, added fibre, protein, may lower blood pressure, help improve cholesterol levels and a long list of nutrients and vitamins.  
Flaxseed and chia can be a little expensive so look out for them in unlikely places such as Aldi and bargain shops. It's surprising where they are stocked and at much cheaper prices compared to health food stores.  Also go for ground versions as flaxseed and chia are hard for our stomach to digest whole, meaning you can miss out on all the health benefits. 
Grab your copy of my Ricotta Tiramisu Overnight Pots Recipe below.  
Also, did you see my last recipe for Self Saucing Chocolate Pudding?  Go check it out Here
In other foodie news:
My go to snack this week has been my Raw Vegan Brownie Bites
I've been listening to this podcast What Artist's Eat  
Each interview is with different artists whether musical, painters or writers and gets them to talk about the foods they love and grew up with.  They have some great foodie sound effects as well.  
They also ask each guest how the phrase "Starving Artist" makes them feel.  It is interesting how society has stigmatised artists as not being able to make money or afford food.  It's a limiting belief that stops many people from following their passion.  Yes, it's hard to make money as an artist, but then it's hard to make money in a lot of businesses.  It's all about getting the right help to promote your work/business. 
Let me know in the comments below if you are a tiramisu lover – I love reading your comments. 
If you want to make sure you never miss a recipe sign up for my newsletter HERE
Don't forget to check out the other great blog posts in this link up party HERE
Thanks to the following ladies for sharing this link party and inspiring me to keep blogging:
Donna @ Retirement Reflections
P.S. If you are looking for some more 'pot' recipes have you tried my Fig, Raspberry and Pecan Pots or Berry, Chocolate and Cinnamon Cheesecake Pots?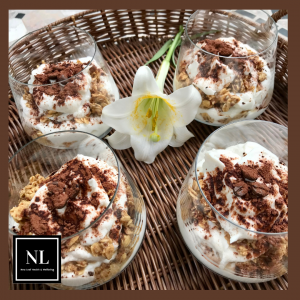 Ricotta Tiramisu Overnight Pots
Ingredients
Ricotta Layer
250g

Vanilla Coconut Yogurt

or can be replaced with 250g Greek yogurt with 2 tsp vanilla essence

375g

Light smooth ricotta cheese

3

tbsp

maple syrup
Coffee Layer
1

cup

rolled oats

2

tbsp

ground flaxseeds (linseeds) and/or chia seeds

1

cup

strong espresso coffee
Topping
1-2

tbsp

cocoa powder

optional Berries or fruit of choice
Instructions
Mix together all the ingredients for the ricotta layer

Mix together all the ingredients for the coffee layer

Layer the ricotta mix and coffee mix in glass pots

sprinkle the tops generously with cocoa powder

Chill overnight in a fridge

To serve: As they are or you can add your choice of fruit to the top.