Hello everybody, 
This recipe for Self Saucing Chocolate Pudding is part of the #whatsonyourplate blogging link up.  You can check out what everyone else has been sharing here. 
I know some of my readers will be anticipating the bursting forth of Spring, whilst others will be digging out their throws and thick duvets to embrace the chill of Autumn.  Whatever season you are heading into though, I think there is still a place for a warming, chocolate pudding – a self saucing chocolate pudding to be precise!  
I know technically I probably shouldn't be sharing a self saucing chocolate pudding on a health and wellbeing website, but I know that we all crave comfort food or treats from time to time.   My thinking is that it's far better to have a homemade pudding than a bought one that could be full of unpronouncable ingredients. 
So, this dessert is super easy to make and oh so satisfying, especially on a cold winter's night with a glass of red wine!  Unfortunately, it doesn't score on the 'looks amazing' front, but it certainly is top of the class on the 'tastes amazing' front.  
You can basically mix up all the ingredients in the dish you are going to cook it in, so it saves on dishes too.
I first made this pudding when my husband and I bought our first house together, a cozy English cottage imaginatively named Rose Cottage. At the time I also bombed around the country lanes in my trusty 'Mollie Midget'.  I really loved that car but unfortunately sold her on when we started raising children.  I think it's time to relive that chapter so I have put a MG sports car on my wish list for the future.  Anyone else here have a car they loved?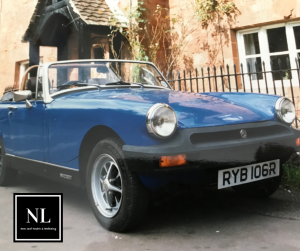 Anyhow, back to the recipe.  It's adapted from my very trusty 'The Art of Home Cooking' by Stork Margarine which was the recipe book I had in the UK for school Home Economics classes when I was 12 or 13.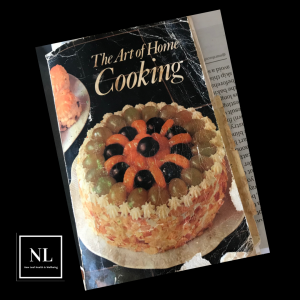 I remember one occasion where we had to make tomato soup in Home Economics and then transport it home in some sort of tupperware container.  I had to travel on public transport and I'm sure I stunk the whole bus out with tomato soup smells!  
It's such a shame that many schools don't teach Home Economics anymore.  I feel we are in dire need of the teaching of basic cooking skills for the younger generation, who now rely on takaways and processed foods.   I know some primary schools are bringing in cooking via science lessons i.e. how ingredients react to make another substance, but really we need to teach our kids to feed themselves nutritious foods.  
Enough of my ranting … grab your copy of the recipe below.
Thanks to Donna from Retirement Reflection and Deb from Widow Badass  for the blogging link up #whatsonyourplate. 
Have a wonderful week and let me know in the comments below what you think of the recipe and whether you had a favourite car 🙂
P.S. If you want some more pudding inspiration check out my Puff Pastry Plum Tarts , Blackcurrant and Vanilla Cheesecake, Chocolate and Lime cheesecake Recipe, Berry, Chocolate and Cinnamon Cheesecake Pots

Self Saucing Chocolate Pudding
This is a super quick to make but oh so satisfying and warming chocolate pudding which will keep you coming back for more.
Equipment
1 Oven proof baking dish

approx 30cms by 15 cms

1 measuring scales
Ingredients
Pudding
150g/6oz

butter

melted

100g/4oz

self raising flour

sieved

50g/2oz

chocolate drinking powder

sieved

150g/6oz

sugar

2

medium

eggs
Sauce
100g/4oz

brown sugar

30g/1oz

cocoa powder

550ml

/1 pint

hot black coffee
Instructions
Pre heat oven to 180C/356F. Grease a 2 litre/4 pint pie dish
For Pudding
Place all the ingredients into a mixing bowl or your baking dish if you want to save on dishes. Mix well with a wooden spoon. Spread the mixture evenly over the baking dish.
For Sauce
Mix together the brown sugar and cocoa powder and sprinkle evenly over the top of the pudding mix.

Carefully and slowly pour the coffee over the top of the mixture in the baking dish.

Bake in the pre heated oven for approximately 40 mins to 60 mins depending on your oven. The pudding should look firm and spongy across the top of the baking dish.

Serve hot with icecream, custard or cream depending on your preference!
Notes
Not much sauce?  You have probably overcooked your pudding.  Reduce the cooking time next time.  Leftovers: store in your fridge and reheat to serve the leftovers.  I find microwaving works best.  If you reheat in your oven, take out the portion you require and heat in a new dish so you don't destroy your baking dish.