This post is part of the #WBOYC link party
Creating a home and health – what do they have in common?
As you may recall one of my words of the year is CREATE.  I'm trying to focus more attention on finding creative outlets and experiences to explore this word more.   You can find last month's post here
Sometimes being creative is required in our everyday lives to help us solve problems and create new environments for ourselves.
Creating a home
During April I have been developing interior design creativity to help me re-design and create a new bathroom for our home.  We have been in our new home a year now and slowly discovering the areas that require attention. 
The first issue is that the shower was leaking in our ensuite,  which was causing damage to the floor boards.  The only way to deal with this problem was to pull everything out and re-board the floor.   As everything in the bathroom was very dated and old it made sense to replace all the bathroom fittings as well. 
I set about the task by first collecting bathroom brochures to decide which sort of fittings I liked.  I drew out a plan of the bathroom, to help map out which fixtures would fit best.  I then trailed around the showrooms to find the best prices for the items I had decided on. 
Once I had a good idea of the main features required for the bathroom I set about picking colours for tiles, paintwork and the various finishes.  I had to utilise visualisation skills to try to imagine what the final bathroom will look like.  
I found this great tool called Color Adobe.  It has an interactive colour wheel which you can move around to provide palettes of complimentary or contrasting colours.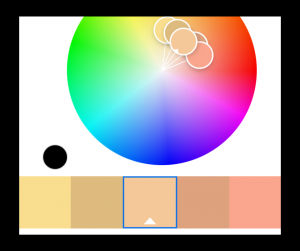 They also have a great section on colour trends and combinations of different colours that evoke certain settings or moods.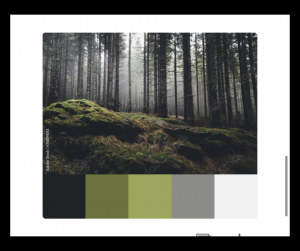 Now I'm on the wait and see part.  The builder is slowly bringing all the components together, and I am hoping that everything will compliment each other and look as I imagined.  No doubt I will bring you up date in future posts on the outcome.
Creating health
So, how on earth does my bathroom renovation relate to health? 
Well, when the builder started pulling my bathroom apart, it made me think about our health. 
On the surface we can think our bodies look OK.  They could be aging a bit (like my bathroom) but everything still appeared to be working and functioning as it should.  However, once the builder started pulling everything out it was obvious that pipes had been leaking for some time,  the fittings were old and not functioning as well as they could ie. pipes were clogged with debris from the deteriorating materials and the general state of the bathroom was worse than it first appeared.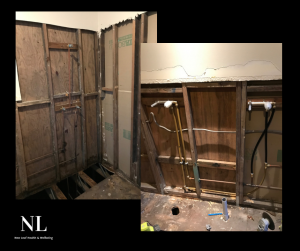 This is how our bodies can appear to us.  We think on the outside we look OK – maybe a few signs of aging, wrinkles, aches and pains etc.  But we don't really know what's going on inside:-
Could our arteries be clogging up like the pipework in my bathroom, 
Could our hearts be losing strength and pressure like my water pump? 
Can our gut be leaking toxins into our bloodstream from eating highly processed foods, or could we have a poor microbiome (causing inflammation which is one of the major causes of chronic disease) like the pipes that were leaking water in my bathroom,
Can our bones be deteriorating due to osteoporosis, or our joints wearing from arthritis,  like the floorboards and waterproofing in my bathroom?
Are our muscles deteriorating through sarcopenia (muscle loss) which happens to everyone over the age of 30, causing the structure and foundation of our bodies to weaken, again like the floorboards in my bathroom? 
Just like our houses need to be renovated and kept up to date, we need to keep our bodies renovated and up to date.  We all need to take time to look after ourselves and our health.  
So, this is my reminder to you to go and get a health check, get some blood tests done for cholesterol, glucose etc, get those routine scans done.
Check out your physical fitness – do you need to pay a bit more attention to those aches and pains? 
Review your diet and try to eat more fresh fruits and vegetables.  
If you keep doing small updates regularly you won't need a complete renovation on your body i.e. major surgery, in exactly the same way that if the previous owners had kept maintaining the house, I may not have needed to completely renovate my bathroom. 
In other creative news:
I found a beautiful art supply shop which I think I may be spending quite a bit of time and money in this year in my pursuit of creativity!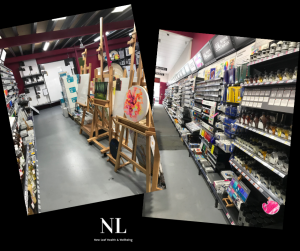 I just watched this documentary on Karl Lagerfeld (currently on BBC2 iplayer but hopefully will become available in other countries).  He was obviously a genius creative and workaholic but also very secretive.  What I loved about him was he appeared to be extremely generous with those around him and he absolutely loved books spending over half a million euros a year on them! 
I went along to another author talk at my local library – Josephine Moon who is an Australian author.  I haven't read any of her books yet but will be on the look out for them when next at the library.  She apparently includes characters who are neurodivigent in her books and lots of food!   Her latest book is about a neurodivergent teacher going on a road trip across Australia with a bunch of rescued animals. 
A very cute trainee assistant dog, called Fergus, sat in on the talk too!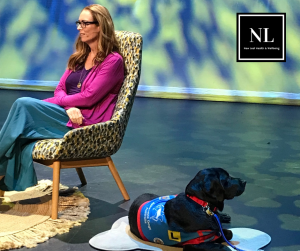 So, that's my creative April.  Let me know in the comments whether you have any creative projects on the go, either artisitic or of the home renovation/makeover kind.  I love hearing what you are all up to. 
Don't forget to check out the other posts in this link party HERE .  Thanks to my fellow bloggers for setting up this link party.
Donna from Retirement Reflections
Sue from Women Living Well after 50
By the way if you would like regular updates from me, you can sign up for my newsletter here HERE