This post is part of the #WBOYC link party
Why you need to be creative in midlife
As you may recall one of my words of the year is CREATE.  I'm trying to focus more attention on finding creative outlets and experiences to explore this word more.   This month I visited the Andy Warhol exhibition which is touring at my local arts centre and attended a talk about creative travel writing – I'll share some photos below but first I want to explain why I feel it's important to be creative in midlife.
Creativity is the ability to come up with unique ideas, solutions, and approaches that are not conventional.   Creativity trains the brain to think in different ways, problem solve and be curious about your environment.  This skill has numerous benefits in many areas of life especially as we begin to grow older.  Creativity can have a profound impact on one's well-being, personal life, mental health and success at work.
Here's why I'm choosing to be creative in midlife:
Increased problem solving abilities
One of the primary benefits of being creative is the ability to come up with new and innovative solutions to problems.  When creating a piece of artwork,  completing a DIY project, writing or crafting an item, you have to use your brain to problem solve.  
There is a belief that you 'can't teach an old dog new tricks' but this is a myth.  Science has now discovered that the brain can learn any new skill at any age.  This process is called neuroplasticity and it's really important as we age to increase our brain's neuron pathways to help keep it healthy.   
By pursuing creative outlets you will increase your ability to think in a unique way and approach problem solving in a different way to others.  Being creative stops you from being bound by conventional thinking and you will be more likely to find solutions that others might miss. 
The saying 'use it or lose it' certainly applies to the brain.  If you don't train the brain constantly to be creative and problem solve, it will slow down in it's critical thinking abilities.  You risk becoming stuck in your way of looking at the world and in the way you think about issues. 
Stay curious and stay creative to stay young! 
Improved Mental Health
Being creative can also have a positive impact on mental health.
Engaging in creative activities such as painting, writing, or music can be a form of therapy and can help reduce the stress and anxiety that is often common in midlife.
In fact, studies have shown that participating in creative activities can lead to increased positive emotions, lower levels of depression, and improved overall well-being.  Have you every noticed how when you are doing something creative time just flows by and your brain completely quiets down?  Being creative provides the same benefits as mediation, giving your brain a rest from the everyday noise of life.
Boosts Self Confidence
When you create something that you are proud of, it can boost your self-confidence, especially at midlife when we can find our confidence declining.  Being creative allows you to express yourself in a unique way, showcase your talents and allow you to rediscover who you are.  This can help re-build self-esteem and develop a sense of identity, something we can again feel has disappeared in midlife.
Increased Innovation
When you express yourself creatively, it allows you to come up with new and innovative ideas.  Having new ideas can also boost your ability to take risks and try new things, which can lead to new discoveries and interests.  Hello, travelling the world!
Improved Communication Skills
Exploring and expressing your creativity can also help develop your communication skills.  You begin to learn to express yourself in unique and engaging ways.   Plus, when you start developing skills in one medium, you will feel drawn to try other forms of creativity – writing, art, music etc. 
These skills can be valuable in personal relationships as you feel more confident in expressing your ideas and your own uniqueness.   You will be able to interact with others more fully and be more engaging.
So, I hope this explains some of the benefits of being creative and why my goal this year is to explore my creativity more.  
The Andy Warhol Exhibition
As I mentioned above, this month I enjoyed experiencing the art of others, namely Andy Warhol, Keith Haring and Jean-Michel Baptiste.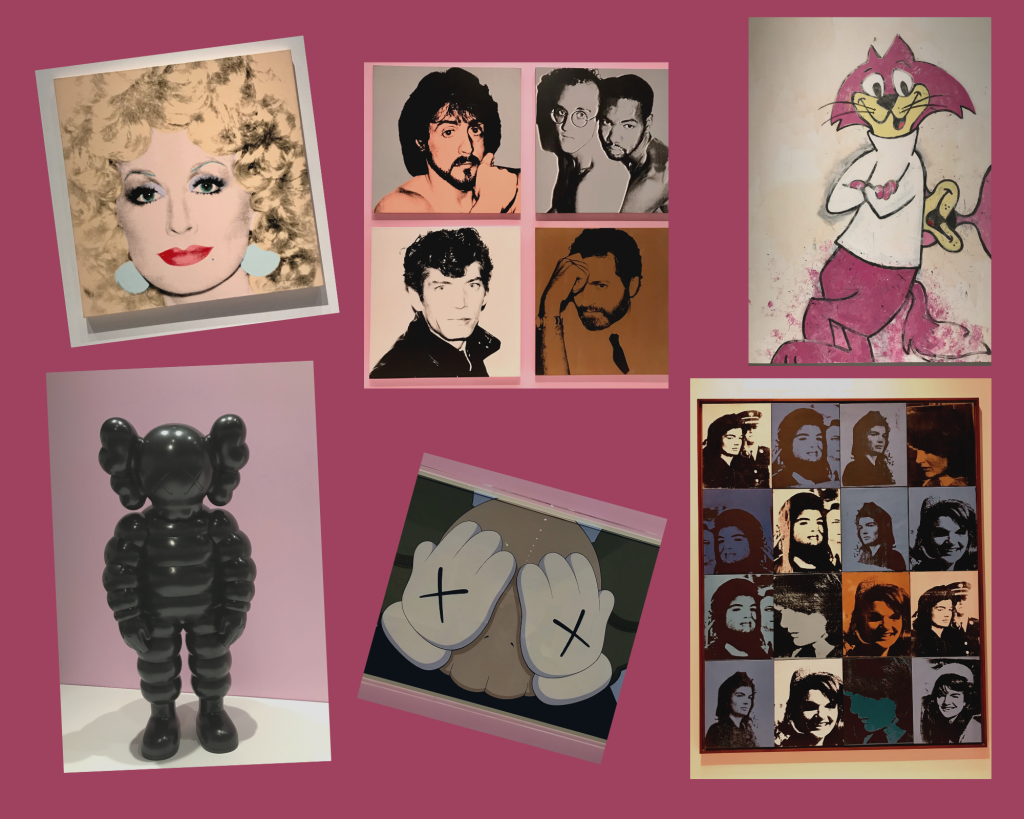 I loved some of Warhol's quotes on art and life: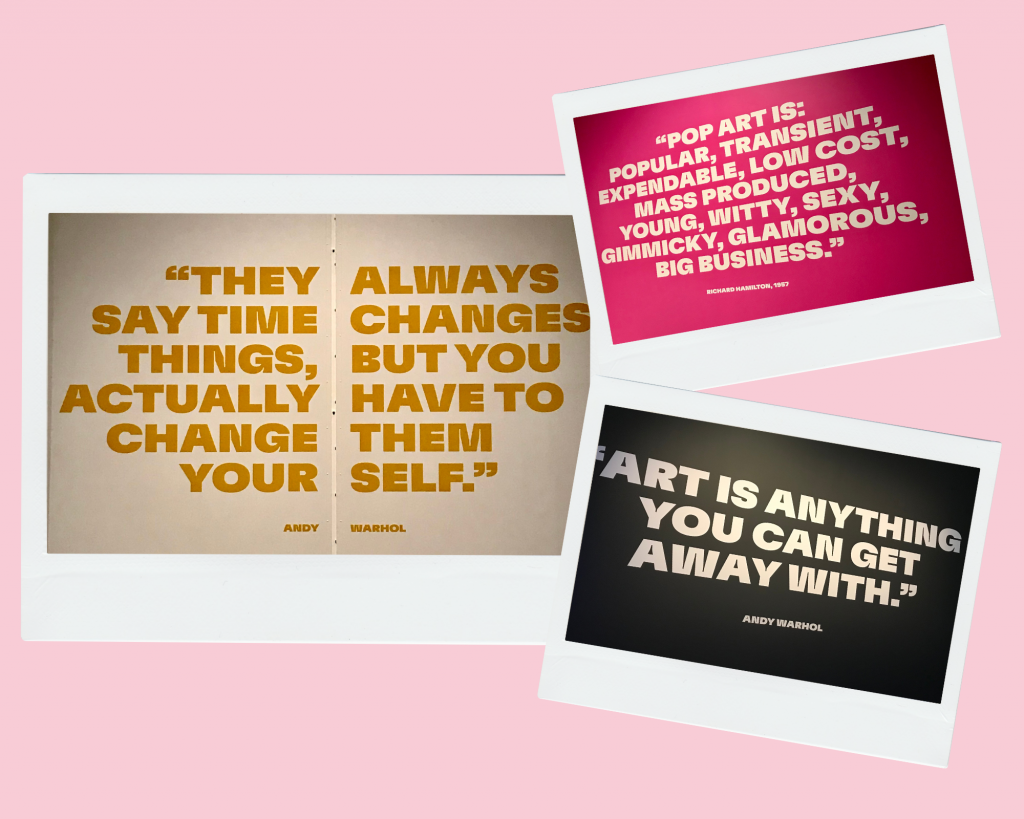 Travel Writing
I also attended a workshop on travel writing held at my local library, taught by Vicki Bennett.  She is a best selling author of some 34 books for adults and children, an artist and film maker – a mega creative!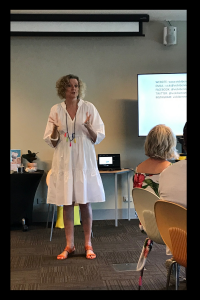 My main take away from the training session was that if you are writing about your travels you need a story or reason behind the travels you are talking about.  It was also interesting meeting with other creatives and hearing their stories.  
I was sat next to a lovely lady, Hazel Barker, who has written several books about her life.  She was born in Burma and spent her young years growing up under Japanese occupation.  Her book 'Heaven Tempers the Wind, the Story of a War Child' tells her story, which is followed by two other books following her move to Australia and meeting her husband.  She has also written about another family member in her book the  'Chocolate Soldier', who was a conscientious objector during World War II in the UK.   I've put her books on my wish list to read in the near future.   
Let me know in the comments if you are going to embrace creativity and what really calls to you as a form of expressing yourself? 
Don't forget to check out the other posts in this link party HERE .  Thanks to my fellow bloggers for setting up this link party.
Donna from Retirement Reflections
Sue from Women Living Well after 50
By the way if you would like regular updates from me, you can sign up for my newsletter here HERE