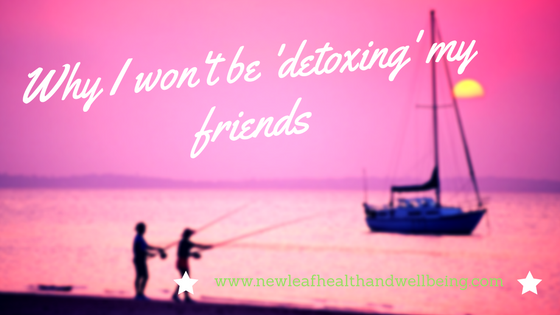 Why I won't be 'detoxing' my friends
Recently, I've seen lots of articles in magazines and on the internet giving advice on how the type of  people you surround yourself with can have an impact on your moods and mental wellbeing.
I think we have all experienced occasions when someone has been constantly negative about life and that has made us feel a bit down about life too. Conversely, people who are always happy and optimistic help to make us feel better about life.
Of course, there are the few people in life who are downright rude or obnoxious.  These people increase our  stress levels or make us feel angry or worthless.  So, I totally agree that the people you surround yourself with can have an impact on how you feel and deal with life.
Most of these articles then go on to suggest that you should 'detox' your friends i.e. drop the people from your life who don't make you feel wonderful or who sap your energy.  On a basic level I would agree.  Why make yourself miserable trying to nurture and pursue a relationship that provides no benefit back to you?
The problem with this idea is that it forgets that in times of hardship and pain our friends need us, just as one day we might need our friends.  To have made friends in the first place you must have felt drawn to something in that person's character or personality.
If your relationship or friendship has changed, then this may be a signal that  your friend is struggling to deal with something hard in their life such as a financial issue, marital problems, grief or internal feelings over a lack of self worth or insecurity.  Increasingly and more importantly, these days people can also be struggling with anxiety and depression.
Any of these issues can be problems that your friend doesn't feel comfortable discussing with you and so they are forced to put on a brave face.  But pretending to be happy when you don't feel it is a tremendous strain.  This can cause friends to withdraw and avoid contact to make their life easier.
This is the time that we 'the friends' need to be there – gently supporting, reassuring and letting our friends know we are willing to help if they need us.
I recently found a fantastic website called http://www.blurtitout.org – which has lots of really helpful information for anyone suffering with depression/anxiety or for friends and family who want to help support those suffering.  The article Why we push people away is especially insightful in helping to understand how some people may be feeling.
So my plea to everybody is to be there for your true friends, through thick and thin.  Yes, it would be wonderful to be surrounded by happy, positive people all the time but that isn't real life.
Life is about balance – there will be happy times but equally there has to be sad times.  We are already a "throw away" society when it comes to material objects.  Let's make sure we don't do the same with our relationships.
Sending love to all my friends, both physical and online.

Don't forget to share this article on social media using the buttons below, or come and comment on the New Leaf Facebook page and let me know your thoughts.
If you want to receive regular updates of recipes, health tips and blog posts direct to your inbox, sign up for the New Leaf Newsletter HERE
P.S. We value your friendship so we will never pass your details onto any third party.