Hello Everybody,
Well my blogging schedule has gone out the window a bit this month but I have a delicious White Chocolate and Ginger Cheesecake recipe for you today. 
I guess I am going to have to say the 'C' word.  Christmas seems to be approaching fast. 
Have you started your Christmas shopping yet?  I haven't as I keep thinking there is loads of time, until I hear someone else say 'it's only six weeks until Christmas' and I then go into a Christmas panic!
If you are feeling a bit panicked by Christmas, I've just started listening to the wonderful Calm Christmas podcast by Beth Kempton.  I love listening to her voice and it definitely makes me feel calmer about the planning and preparation for Christmas.  If you haven't listened to it before, there are past series to catch up on too. 
To try and get myself into the Christmas vibe, I popped into my library and picked up some Christmas cook books to start thinking about what's going to be on the Christmas menu.  I love dipping into Christmas books, magazines and TV shows to gain foody ideas.  Dp you have a favourite Christmas recipe book?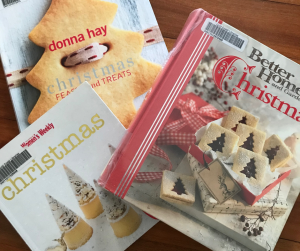 White Chocolate and Ginger Cheesecake
One of my ideas which will definitely be on my Christmas meal plan this year is this delicious White Chocolate and Ginger cheesecake recipe I have created.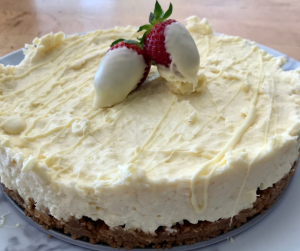 It's not really in my usual healthy vibe but Christmas is all about treats and it's much better to have homemade treats than mass produced ones which are usually full of unpronounceable ingredients.
It has a creamy, sweet decadent filling which contrasts with the crunchy, spicy, warming ginger base.  The textures together are very moreish and I'm sure you will find yourself craving this yummy treat!  
It's a super easy recipe to put together and you can decorate it to make it look as Christmassy as you wish, but it's not just a cheesecake for Christmas!  It's also great after a summer bbq or for any special occasion.  
So, print off the recipe below, and add it to your Christmas meal planning list.  If you haven't started Christmas planning yet, this can be your first step and make you feel like you're planning ahead! 
Let me know in the comments below if you're a cheesecake lover?
Also let me know your recommendations for your favourite Christmas recipe cook book.  I love hearing from you. 
Have a wonderful week everybody xx 
If you want to make sure you never miss a recipe sign up for my newsletter HERE
P.S. Once you have tried my White Chocolate and Ginger Cheesecake, how about trying one of these cheesecakes: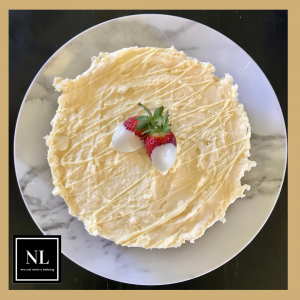 White Chocolate and Ginger Cheesecake
A creamy, decadent white chocolate filling on top of a crunchy, ginger base. I promise you will be craving this dessert! This cheesecake makes a special dessert for any occasion especially Christmas.
Equipment
1 springform round baking pan

approx 20cm diameter

1 food processer or mixer
Ingredients
Base:
250g

ginger biscuits

75g

butter

melted
Filing:
250g

Philadelphia cream cheese

150ml

whipping cream

1

tsp

vanilla essence

100g

white chocolate

70g

caster sugar
Instructions
For the base
Grease the springform baking pan or if using an ordinary round baking pan, grease and line with baking paper to help when lifting the cheesecake out for serving.

Process the ginger biscuits in a food processor until they resemble bread crumbs. If you don't have a food processor you can crush the biscuits by hand in a bowl, using the end of a rolling pin or place the biscuits in a ziplock bag and bash with a rolling pin.

Melt the butter either in a small saucepan over medium heat or in a microwave for 10-20 seconds.

Mix the melted butter and crushed biscuits together then press firmly into the round springform baking pan.

Place in the fridge to set and firm up.
For the filling:
Whip together the cream cheese, vanilla essence and cream in a food mixer/processor until it forms stiff peaks.

Melt the white chocolate in a small bowl set over a bigger bowl full of boiling water or over a saucepan of hot water. Don't be tempted to microwave the chocolate to melt it - white chocolate does not melt well in the microwave!

Mix through the melted chocolate and sugar into the cream and cheese mixture.

Smooth the filling mixture over the biscuit base and refrigerate for 3-4 hours if possible before serving.

To serve: release the cheesecake from the baking pan and decorate to your preference.