Thriller Book Reviews October 2023 is part of the #What'sonyourBookshelfchallenge
Disclaimer: This post and website is a participant in the Amazon Services LLC Associates Program, an affiliate advertising program designed to provide a means for sites to earn advertising fees by advertising and linking to amazon.com
Hello Everybody,
This month my reading choices have had a definite theme: Thrillers, which seems appropriate for the month of October don't you think?
I have a feeling my preferred book genre of thrillers is slightly weird, as research suggests we read for escapism.  I certainly would not want to escape to a 'real life' full of murder and suspense!
In 'real life' I prefer to be surrounded by love, kindness, romance and nature.  However, I'm not drawn to romance or rural fiction novels which basically provide that lifestyle.
How about you?  What genre are you most strongly drawn to and do you want your 'real life' to reflect this?
In other book news:
I went to a local libraries author talk with Judy Nunn.  She started her career as an actress – you may remember her from her most famous role as Ailsa Stewart in Home and Away. 
She is now focusing more on her historical fiction writing career.  Her latest book is called Black Sheep.  The story is about a prosperous sheep farming family in Australia and an enigmatic young man who enters their lives.  Judy read an extract from the book bringing it to life with accents and voices for her characters.  She was a very dynamic speaker and I really enjoyed her talk.  I shall be looking out for her book at the library.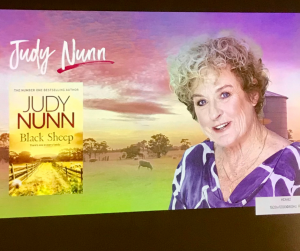 I was drawn to this bedside lamp I spotted on Blueorxy.bu's instagram, although I suspect it wouldn't provide a strong enough light for reading into the midnight hours: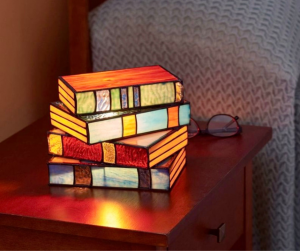 Thanks for dropping by.
Let me know in the comments what genre you like to escape to and whether you want that in your 'real life'?
Thanks to the following bloggers for allowing me to take part in the #Whatsonyourbookshelf challenge.
Donna from Retirement Reflections
Sue from Women Living Well after 50
Please following the link here to check out the other book reviews in this challenge.  I'm sure you are going to discover lots of interesting books to add to your book wish list.
Thriller Book Reviews October 2023
Dying to Know – Rae Cairns (fiction)
I picked this book up as a 'hot read' from my local library which means you only have two weeks to read it in.  This wasn't a problem as I loved this book.  It was really fast paced and kept me turning the pages until far too late in the night.
This is the second book of Aussie author Rae Cairns.  I haven't read her first book The Good Mother but I shall be searching it out.
The storyline has been very cleverly crafted and tied up neatly at the end – exactly as it should be in a good thriller.
Whilst the story is set in NSW, Australia there were elements in the book that kept making me feel like it was in America.  This was partly due to some of the characters names and personalities, and the fact that one of the story threads centers around a biker gang.  Even though I know there are biker gangs in Australia, I just don't associate them with life here.
Anyhow I would certainly recommend this book.   Here's the blurb so you can see if it would interest you:  Twelve years ago, budding journalist Geneva receives a chilling phone call – her sister Amber is trapped in the boot of a car and is desperate for Geneva to save her.  Amber is never heard from again.
Haunted by guilt that somehow it should have been Geneva in that boot, she dedicates herself to bringing up her niece and nephew surrounded by Amber's increasingly unstable husband.
When Sergeant Jesse Johns appears with shocking new evidence about Amber's disappearance, Geneva's world rapidly unravels.  The police soon hit a dead-end in the case, inciting Geneva to take it upon herself to uncover terrible secrets which put her and everyone she loves in danger.
The Couple at No 9 – Claire Douglas (fiction)
This book was another winner for me.  The story is told through several points of view, flicking backwards and forwards in time, with lots of characters and yet it really works without confusing the reader.
The story is set in the UK with lots of twists and turns as secrets are revealed.
Saffron Cutler and her husband Tom move into 9 Skelton Place.  As the builders begin work on their new extension, two bodies are discovered under the old patio.  The police advise Saffron that they died 30 years ago, and records show that her Grandmother was living at the property at this time.
Saffron's Grandmother suffers from Alzheimers but it's clear that every so often she remembers something from her past.  Saffron is left trying to piece together the names that her Grandmother mentions during her recollections.
What happened at No 9 and is Saffron and Tom in danger?
A big thumbs up from me.
Stone of Fire (book 1 of the Arkane Book Series) – J F Penn (self-published fiction)

J F Penn is an indie author who is a New York Times and USA Today bestseller. 
She write thrillers, dark fantasy and crime but also publishes non fiction at The Creative Penn about writing and travel.
I have listened to her podcast The Creative Penn Podcast for sometime, where she interviews other authors. and talks about self publishing and AI and it's impact on writing.
Stone of Fire is the first book in Penn's Arkane Book Series (now at 8 in the series).  You can buy the books direct from her website either in print, audio or digital format or other sites such as Amazon.   As a fellow Somerset gal I can't help but support her and prefer to buy direct.  However, this book is currently a free download on Amazon for Kindle.
This book is very much in the style of a Dan Brown novel meets Indiana Jones meets Lara Croft all rolled into one.  The story combines academia plus undercover government agents and criminals all searching for powerful, mysterious religious artifacts.
The pacing is fast and easy to read apart from some quite intricate religious culture terms and names, but this makes you feel like the author really knows her subject matter and has done her research.
I felt I connected quickly with the characters.  The fast action pace takes you around the world from Oxford UK to India, USA, Iran, Isreal, Spain, Italy and Tunisia visiting important religious sites in the quest to find the magical stones cut from the tomb of Jesus and given to his Apostles on his death.
I would definitely recommend this book if you are looking for a high action novel that immerses you in travel and mysterious religious artefacts and cultures.
Story blurb:  Oxford psychologist Morgan Sierra's twin sister and niece are kidnapped by criminals who threaten to kill them if Morgan doesn't help them to find the twelve Pentecost Stones which hold mystical powers.  Morgan will do anything to help save them, even if it means she has to trust Jake Timber from the secretive Arkane Agency.
Morgan and Jake set off on a race against time around the world to find the twelve stones which are prophesised to unleash miracles when reunited but equally can be used for evil intentions.  Will Morgan find the stones in time to protect her sister and niece and who is behind the kidnapping?
Fire with Fire – Candice Fox (fiction)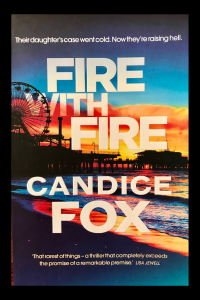 This is the second Candice Fox book I've read and I've enjoyed both of them immensely.  Great characters, fast paced with lots of twists and turns.
Destraught parents Ryan and Elsie Delaney's daughter has been missing for months and the police are no closer to solving the case.  In desperation the couple take the LAPD forensic lab by force and threaten to destroy crucial case evidence unless the police find their daughter.
Charlie Hoskins has been undercover in a vicious biker gang for five years.  All the evidence he has collected to bring them to justice is in that lab.  He has no choice but to try and find their daughter Tilly to protect his work.
Rookie cop Lynnette Lamb was fired before she even got out on her first beat.  The only way she can salvage her career is to find Tilly.  Hoskins and Lamb team up in an unlikely partnership to solve the case, racing against the clock to protect the forensic evidence that is being destroyed by the Delaneys.
The tension in this book is palpable, with twists and turns and a cracking pace.  A definite winner with me.
Death at Greenway – Lori Rader-Day (fiction)
Rader-Day is a new author for me.  I happened to see this book at a discount book store so thought I would give it a go.
I was drawn to the fact that the story is set at Greenway, Agatha Christie's former summer home in the South West of England, during World War II.
Bridey Kelly is a disgraced nurse, running away from her past in London and the unrelenting bombing, searching for redemption as a nurse helping to care for evacuated children.
Greenway House provides a beautiful sanctuary but it is full of rules, and mysteries.  In particular Gigi, the other nurse appointed to look after the children who is unlike anyone Bridey has met before.
When a body washes up near Greenway, Bridey and the villagers begin to realise there is a murderer in their midst.  However Rader-Day doesn't incite her characters to take action to solve the mystery.  
Everything in this book just sort of unravels with reasons and motives becoming apparent but maybe not a hundred percent satisfying.  
I also found the style of writing difficult to get into at first.  Maybe I have been reading too many comtempory style books.  This book had more of an older 'writing' style to it.  I'm not sure whether Rader-Day was trying to create a nod to Agatha Christie's style of writing.  
*Slight spoiler alert*  –  Agatha Christie had very little to do with this story although she was present in the background.  
Overall I did enjoy the book and wanted to finish it but the storyline is a very slow burning one and I found some of the outcomes a little dissatisfying.  Not so much thriller as mysterious occurrences. 
The First Summer of Callie McGee – A. L. Tait (children's fiction)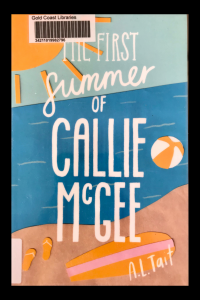 I've listened to Alison Tait (A.L.Tait) on lots of writer's podcasts.  She is a prolific writer of children's fiction, usually in the fantasy genre. She is also a great interviewer of other writers and provides lots of writing tips on her website if you are into that sort of thing. 
This book is a break from her usual genre and is basically a cosy crime for kids.  Growing up on Secret Seven and Famous Five, I couldn't resist checking it out.
Callie is about to start High School after the summer holidays in Australia but first she has to endure the annual 'family friends' holiday.  You know, those holidays where your parents get together with their friends and the kids all have to muddle along even though they are not friends or have anything in common.  
This time Callie has decided to reinvent herself in readiness for High School, but she has to convince the grown ups and the other kids of her plan.  
Usually the boring town of Sawyer's Point has very little going for it but this summer there has been a string of burglaries.   Callie and her surprising allies of Mitch and Owen decide to solve the mystery.  
Things do not go to plan, and very soon they find themselves face to face with a local gang and a possible ghost.  When Sasha, the eldest girl in the group goes missing, Callie has to really step out of her comfort zone to help her friend.  
This is a great story about growing up and finding out who you are.  I really enjoyed it and would recommend it for anyone who has kids about to move up to High/Senior School.

Well, that's it for this month.  Drop me a comment below, and do let me know what you've been reading this month. I love hearing about good books!
If you missed my last book review you can catch up HERE