In the month of July there was wonderful Italian food on my plate!
Hello everybody,
In this month's What's on your plate post I want to share some of the fantastic food I enjoyed at my favourite hotel in the Dolomites, Italy.
My husband first discovered this hotel through one of his cycling adventures and kept it secret for a few years.  Then he made the mistake of inviting the rest of the family to join him there, and we haven't let him go without us since!  This year he even had his mother-in-law tag along.
So, this hotel is not really high end, luxury fanciness.  If you drove past it on the road you might not give it a second look.  It is however spotlessly clean, inviting and comfortable with beautiful views across to the Dolomite mountains.
This region of Italy is influenced more by Austrian foods and traditions.  The local culture is called Ladin, which has it's own language and foods.  The language is actually based on a very old form of Latin, and the food consists mainly of milk products, beans, grains and Tyrolean dumplings and strudel.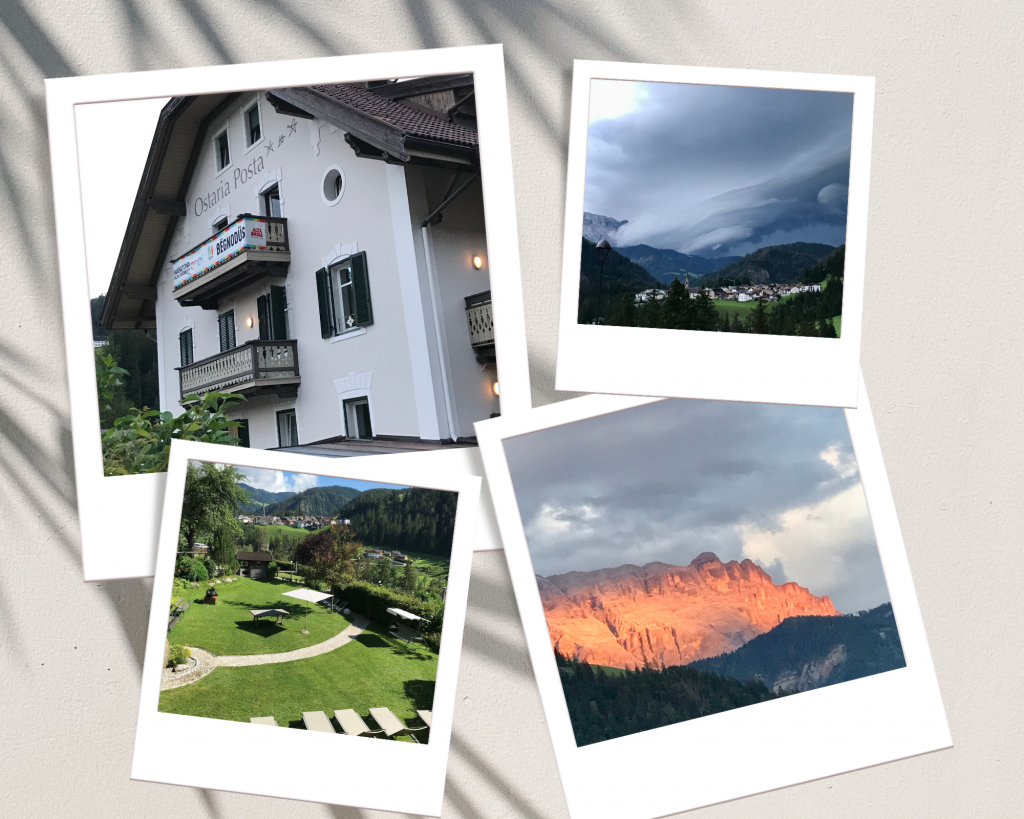 It's biggest wow factor though is the food.  So, come along on a little visionary taste of what was on my plate for the five nights we were there.
First night:
Every night there is a buffet of salad and cold starters that you help yourself to as your appetiser.  I had to be careful not to fill up on these before the main courses.
Starter: Choice of Lasagne or Polenta Cream Soup. 
I had the lasagne and it was the best lasagne I have every had – a true Italian experience.
Main Course: Choice of Sliced beef with spinach from the garden, jacket potatoes or Grilled goat cheese with spinach.
I had the grilled goat cheese which was creamy and mild.  The boys all had the sliced beef which they said was excellent.
Dessert: "Namelake of milk chocolate and banana"
We weren't sure what this was going to be but it was the most delicious chocolate mousse with a hint of banana.  The kids said it was their favourite dessert of the holiday.
Second Night:
Starter: Big ravioli with alpine cheese and cranberry butter or Cucumber Soup.
I had the ravioli which was lovely and light but super tasty.
Main course: Spare ribs, potatoes with caraway seeds and ratatouille or Quiche with vegetables.
I had the quiche which again was super tasty.  The Ladin area uses a lot of caraway seeds in their dishes so expect to find them in your potatoes and salads.
Dessert – Yogurt mousse with forest berries
Again this was lovely and light with a compote of berries at the bottom of the mousse.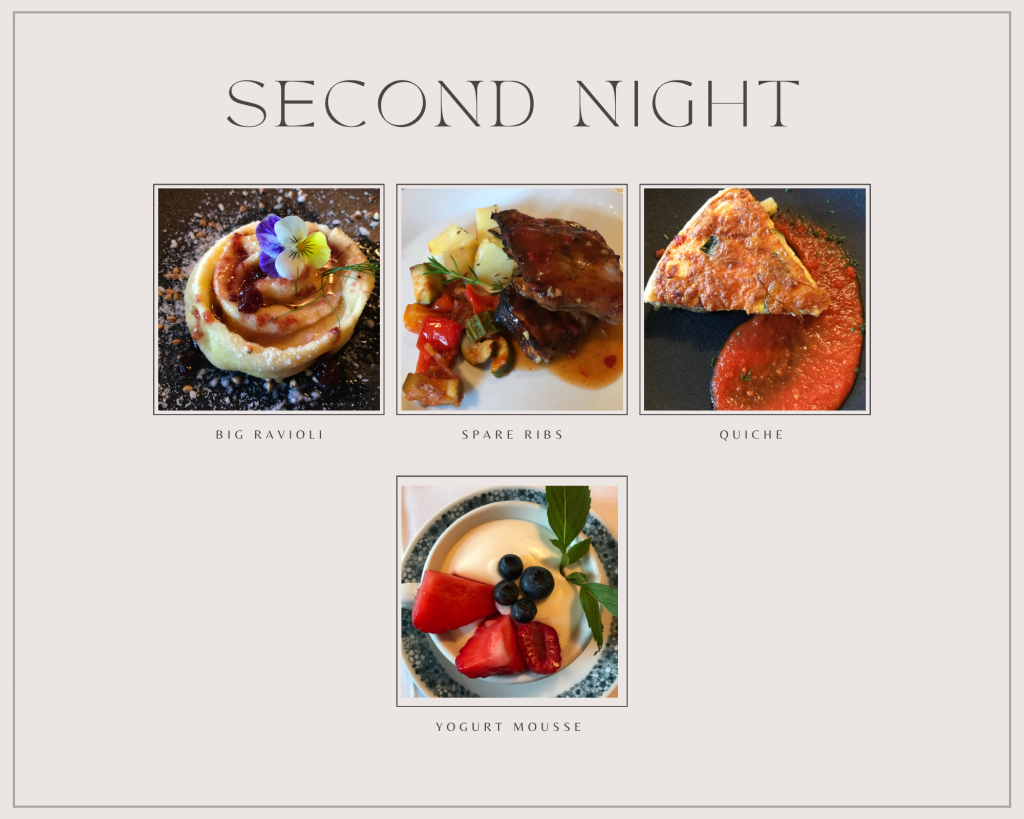 Third night:
On the salad buffet table there were some interesting little pots that I just had to try.  It was like a cheese brûlée  – so tasty!
Starter: Pea cream soup or Spinach dumplings with cheese.
I went for the pea cream soup which was delicious and beautifully decorated.
Main Course: Grilled 'pailard' of veal, green sauce, roasted potatoes and Tuscan cabbage or Gratinated courgettes with feta and olives.
I had the courgettes which at first looked as if they wouldn't be very filling but in fact were!
Dessert: 'The Lemon'
Well this was just a superb piece of artistry – a smooth lemon mousse, balanced on a crisp biscuit base but in the exact shape of a lemon.  Amazing!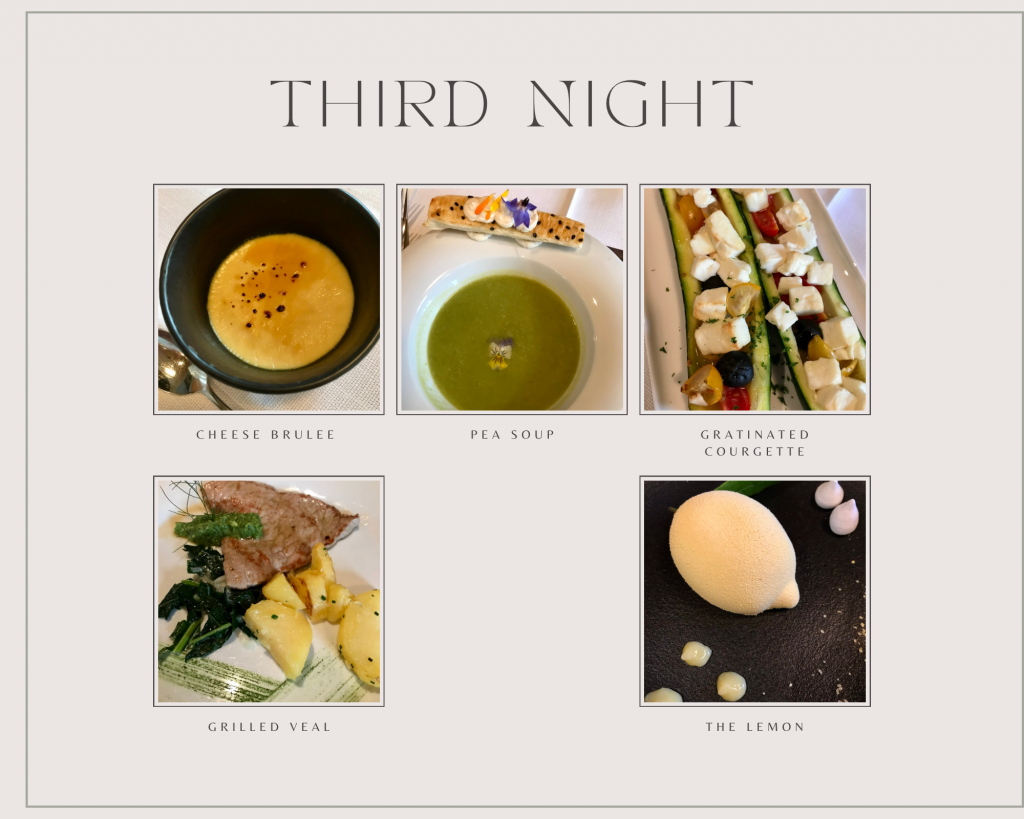 Fourth night:
Starter: Pudding of Parmesan Cheese with confit of tomatoes or Potato, ham and leek soup
I had the cheese pudding which was sublime.  I was worried that the Parmesan cheese taste might be rather overwhelming but it was beautifully subtle.
My eldest son (who never used to like soup) is totally in love with any of the soups that they produce at this hotel. 
Main course: Beef goulash, 'spatzle' and broccoli or Fried blossoms of courgettes filled with ricotta
I had the courgette flowers. Again I wasn't sure whether I would like this in case the cheese element was too over powering but it was amazing. A crisp, breadcrumb outer layer encased the courgette flower and then a plump pillow of ricotta. I'm craving some just writing this!
Dessert: Duet of Passion Fruit
Another amazing dessert – a passion fruit mousse and sponge cake with the tastiest passion fruit sorbet.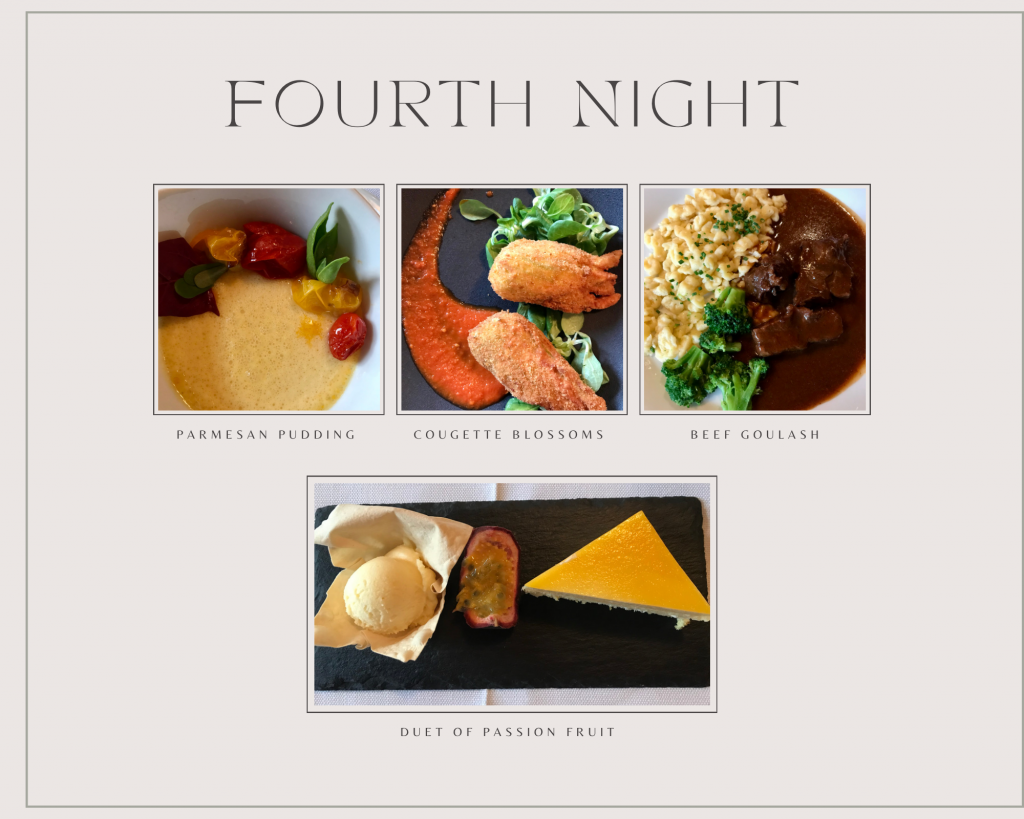 Last Night:
Starter: Potato gnocchi with smoked ricotta, rucola and tomatoes or bean and lentil soup
So I'm not a big fan of gnocchi. The few times I've tried it, it's always seemed very heavy and stodgy. However after the amazing lasagne I thought the best place to try authentic gnocchi has to be in Italy. Thankfully I wasn't disappointed – this was super light and fluffy with a flavoursome sauce, nothing like the gnocchi I have tried in the past. 
Main course: Roasted chicken legs, romanesco, mashed sweet potatoes or prawn brochette with garlic and romanesco 
I didn't fancy the chicken legs as they seemed a little bit unadventurous so I went for the prawns.  They were basically prawn skewers with a sweet chilli sauce. Good but a little disappointing as it was something I have at home. 
Dessert: Avocado Cream 
So our final dessert was very unusual.  The outside of the 'avocado' was made of a chocolate shell.  Inside was an avocado mousse and the avocado stone was a chocolate truffle.  The mousse had a very, light creamy taste and texture which went well with the chocolate.  
The kids couldn't decide if they liked it or not, with one commenting 'this is messing with my head'.  None of them usually like avocados!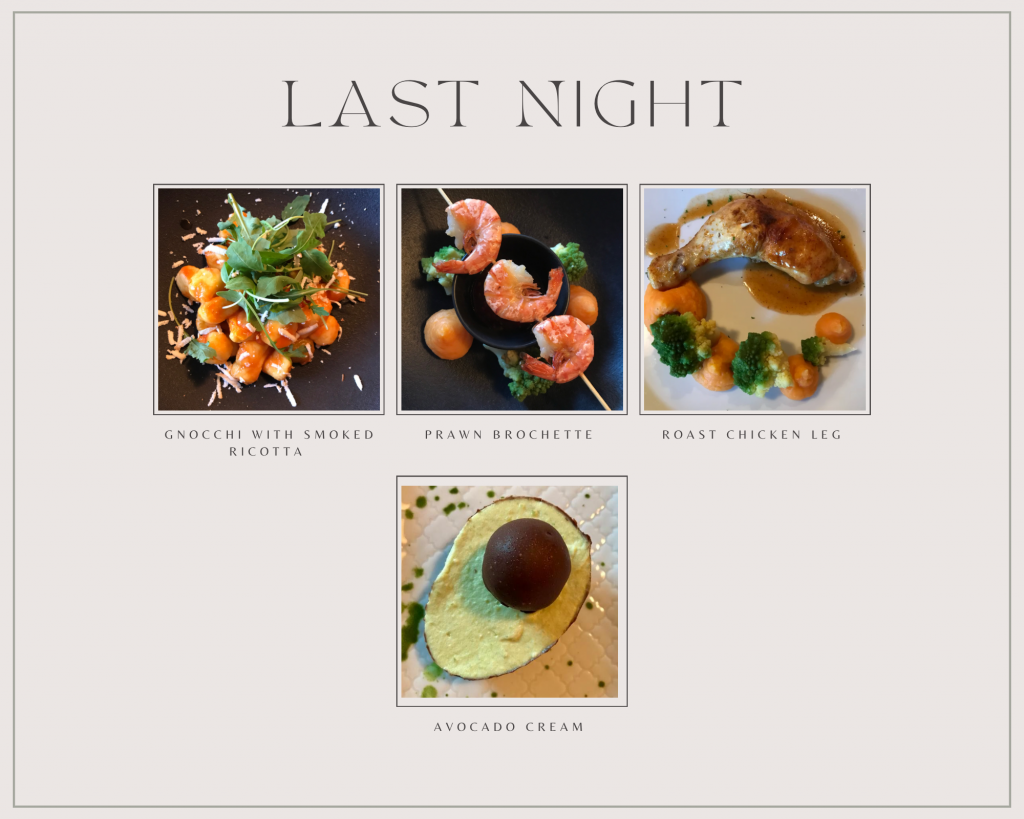 So, there you have it – five nights of foody bliss that I didn't have to cook!
Unfortunately my waistline didn't find it so blissful! 
Time for more exercise and getting back into healthy eating habits.
If you fancy a healthy chocolate treat don't forget to check out my latest new recipe – Raw vegan brownie bites
Don't forget you can download my free meal planning guide HERE

If you want some more foody inspiration then please do check out the other great blog posts in this link up party HERE
Thanks to the following ladies for inspiring me to keep blogging:
Donna @ Retirement Reflections