Hello Everybody and Happy Halloween!
If you have kids I'm sure they are ramping up their excitement levels in readiness for Halloween.   As a small distraction from all the sweets and chocolate, I thought I would share with you my Pumpkin Scone recipe.  When the kids start cutting out their pumpkins, try and rescue some of the flesh – I used the sections from the eyes and mouth cuttings.  Cut into small sections and microwave with a dash of water, until the pumpkin goes soft.  Mash thoroughly and leave to cool.
Then use in the Halloween Pumpkin Scone Recipe below.  
You can serve these scones with some lovely homemade jam or a great savoury alternative is to serve them with Philidelphia cream cheese and some homemade chutney.  If you don't make chutney yourself, hopefully you may have a lovely Granny or family member who would be happy to donate some!.
You may have noticed that many of my recipes are measured out in cups.  This type of measuring is really popular in America and Australia.  I love it because it saves having to get the kitchen scales out and start weighing everything.  If you fancy investing in a set, they are becoming easier to find in the UK.  I found this set on Amazon.  (This is an affiliate link – you will not be charged more for the product, but this website will receive a small commission).  There's lots of other  designs as well, so go check them out.
This week's meal plan
This week's meal plan was inspired over a cup of tea and a read though the October issue of the Sainsbury's magazine.  You can find many of the meals I have planned in the magazine.
Chutney glazed salmon fillets, rice and stir fried greens
Sweet orange chicken breasts, rice and broccoli.
Shepherds pie
Devilish Chilli con carne (for Halloween night)
Lamb curry (using the Sunday roast leftovers)
Chicken Arrabbiata pasta
Roast Lamb and all the trimmings
I hope you have a super, scary Halloween.  Let me know in the comments below or on the New Leaf Facebook page, if you try out my Pumpkin Scone recipe.
Don't forget you can sign up for the free New Leaf weekly newsletter HERE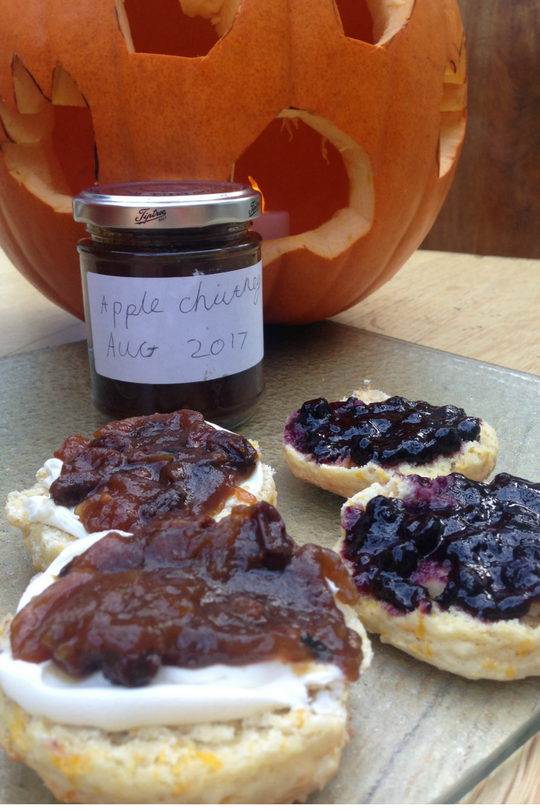 Halloween Pumpkin Scones
Halloween can be rather overwhelming with all the sweet stuff flying around, so why not try these pumpkin scones and give things a more savoury twist.
They're great for entertaining the grown ups with, whilst the kids are running around scaring themselves silly!
Equipment
Mixing bowl

Food mixer

rolling pin

Cookie cutters
Ingredients
1

tbsp

butter

1/2

cup

sugar

1/4

tsp

salt or mixed spice

1

egg

lightly beaten

1

cup

mashed, cooled pumpkin

2-3

cups

self raising flour
Instructions
Dice up some fresh pumpkin into chunks and place in a microwave bowl.

Add a dash of water and microwave on high until the pumpkin softens.

Mash the pumpkin with a fork or blitz in a food processor until pulped.

Beat together the butter, sugar and salt/mixed spice in a food mixer.

Add the egg and then the mashed pumpkin.

Stir in two cups of self raising flour.

If the mixture doesn't come together into a soft dough, then add some of the third cup of flour until it does.

Gentle roll the dough out onto a floured surface.

Cut out your desired scone sized rounds.

Place the scones onto a baking tray and lightly brush with milk to help the scones brown.

Bake in a moderate oven (180/200C) for about 20 minutes until browned and the base of the scone sounds hollow when tapped.

Allow to cool slightly. The scones can be served warm or cold.
Notes
You can serve these scones with some lovely homemade jam or a great savoury version is with Philidelphia cream cheese and some homemade chutney.  
Hopefully you have a Grandma or family member who can supply the homemade chutney or pick some up at a local farmers' market.