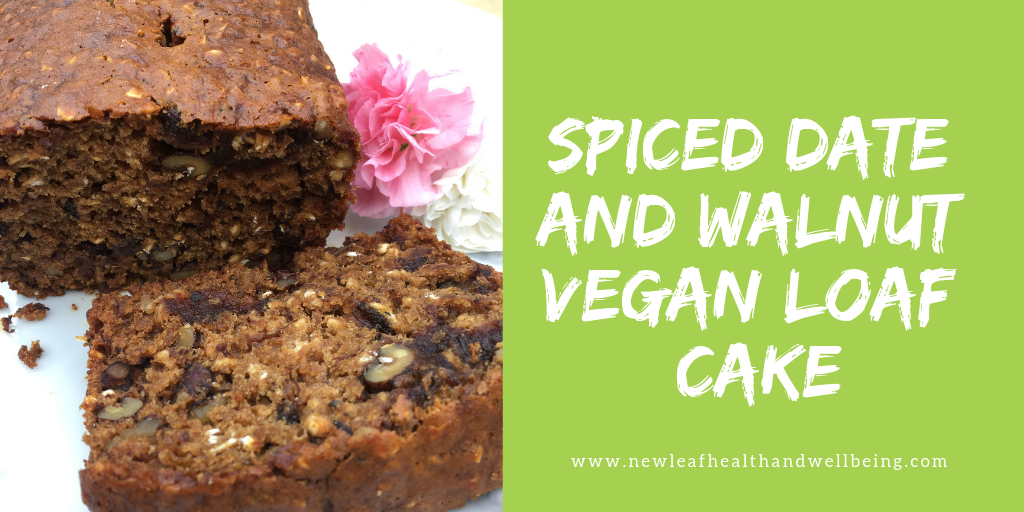 This week, I have another recipe for you.  I have been playing around with some new tech on my website.  I now have a super new recipe layout which hopefully you should be able to print off to use whenever you like.
I'd love to know what you think of it.  Do you like the layout of the recipe, is it easy to read, and is it helpful to be able to print the recipe off?  Let me know in the comments below, or comment on my Facebook Page or Instagram Page.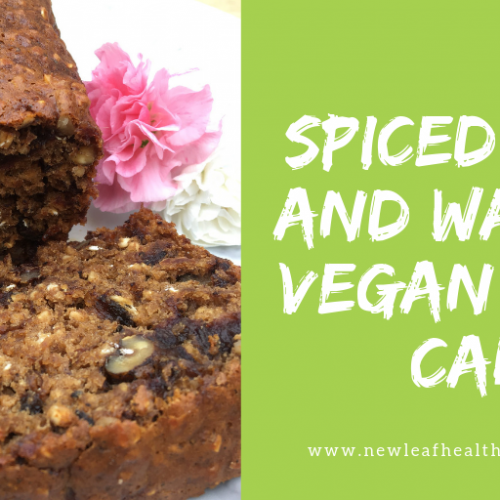 Spiced date and walnut vegan loaf cake
Enjoy this loaf cake with a cup of tea or coffee for your morning snack. It's packed full of dates, walnuts and oats to provide a nourishing energy boost without eggs or butter.
Ingredients
1

cup

pitted chopped dates

1

cup

boiling water

2

tbsps

maple syrup

1 1/4

cups

plain flour

1

tsp

bicarbonate of soda

3/4

cup

rolled oats

1

cup

chopped walnuts

1/2

cup

brown sugar

1

tsp

mixed spice
Instructions
Preheat oven to 180C/365F/Gas mark 4 1/2. Grease and line a 6.5cm x 9cm x 19 cm loaf pan.

Place the dates in a heatproof bowl and pour over the boiling water. Add the maple syrup and allow to stand for 15 minutes

Sift the flour and bicarbonate of soda into a mixing bowl. Add the mixed spice and stir to combine.

Add the oats, walnuts and sugar, Stir well to combine.

Add the date mixture to the dry ingredients, again stirring well to combine.


Spoon the mixture into the prepared loaf pan.

Bake for 50-55 minutes or until a skewer inserted into the middle comes out clean.

Stand for 5 minutes in the tin before turning out to cool on a wire rack.

Once cool, the loaf cake should be kept in an airtight container.
Notes
You can serve each slice of loaf cake with a spread of butter, cream cheese or a vegan substitute if desired.  
Wishing you a super week.