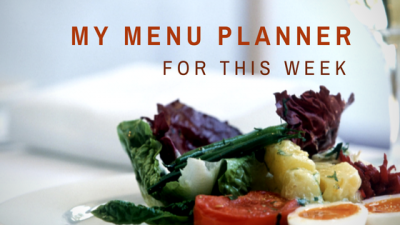 I can't believe that another week has flown by and we are nearing the end of January 2017.
Here's my menu planner for this week – I hope it gives you some inspiration to feed your family.
Beef Casserole with Jacket Potatoes and peas
Fish pie with a mashed potato topping
Bread-crumbed chicken breast with salad
Sweet chilli chicken stir fry with rice – with lots of veg added in.
Homemade Lasagne
Homemade chicken pie with homemade chips and Baked Beans
Yes, there is a slightly naughty meal in there, but sometimes when it's a grey, cold day you just need comfort food!   However, if you make it yourself then you know you have used fresh ingredients, and are limiting the suspicious and unwanted additives.
Have a lovely week and please do share and like my post below.  I'd also love to hear whether these menus help provide a little inspiration?