This post is part of the #What'sonyourBookshelfchallenge
Hello Everybody,
July's book review features my holiday reads whilst away on a five week holiday to visit family and explore Europe.
We were trying to travel as light as possible, so I had originally intended to only read books that I had downloaded to my kindle, thereby keeping my hand luggage as light as possible.
However, I hadn't quite finished The Collector's Daughter prior to leaving, so I chucked it in my hand luggage to finish on the plane.  At the start of our trip I was staying with my mum, so I duly passed on the book to her once I had finished it.  In return though she gave me a load of books to read.  I'm afraid to say that I couldn't resist the lure of reading physical books and therefore ended up lugging several books around in my hand luggage and have not read any of my kindle books! 
I know I have asked this before but if you have the choice between a physical book or a kindle book, which would you choose? 
Thanks to the following bloggers for allowing me to take part in the #Whatsonyourbookshelf challenge.  
Donna from Retirement Reflections
Sue from Women Living Well after 50
Please following the link here to check out the other book reviews in this challenge (oops I missed the deadline but you can still check out the other reviews!) 
The Collector's Daughter – Gill Paul (fiction)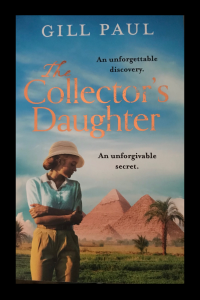 I have a strong love affair with anything Egyptian, particularly ancient Egypt.  As a twenty year old I saved enough money to go on an Egyptian cruise with my mum and brother, organised by Kuoni.  It was absolutely amazing and such a culture shock but I loved every minute of it.  
I then persuaded my husband to go with me again a few years later, doing exactly the same Nile Cruise.  Shortly after our trip, the terrible killings at Hatshepsut temple occurred.  This meant that Egypt was considered unsafe to travel for many years.  After a quick Google, it appears that tourists are being advised that travel to key tourist spots in Egypt is now relatively safe.  Maybe it's time for another cruise! 
Anyhow, back to the book review.  The story is set in 1922 and follows the true story of Lady Evelyn Herbert, who was born at Highclere Castle (of Downton fame).   She was the daughter of Lord Carnarvon, who was influential in funding the discovery of Tutankhamun's tomb.  This meant that Lady Evelyn, her father and the archealologist Howard Carter were the first people to enter the tomb.  
The story is told in flash backs.  In the story Lady Evelyn is now married to Brograve Beauchamp but she is suffering from ill health and is struggling to remember parts of her life.   When a young woman comes asking questions about Lady Evelyn's involvement in the discovery of Tutankhamun's tomb, dark secrets start unravelling which threaten all who were involved in the original find. 
I really enjoyed this book, it was easy to read and kept me guessing as to what the dark secrets were that Lady Evelyn was trying to hide.  As the story is based on true life, maybe the final reveal is a little underwhelming but at least the facts revealed were realistic and the book didn't take the obvious dive into too much supernatural mumbo-jumbo.  A good 4 out of 5 for me.
Bitter Wash Road – Garry Disher (fiction)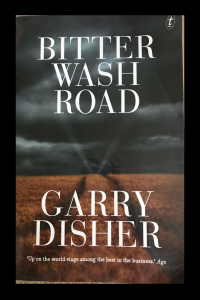 Disher is a completely new author for me (a celebrated Australian crime writer) who I shall certainly be looking to read more of.  His writing style is exquisite, totally mastering the descriptions of the Australian scenery in which the book is set.   I was intrigued by Disher's writing style which causes the reader to slow down in their reading, which really emphasises the laid back, slow, heat ridden feel of living life in the Australian outback.  Exceptional writing supported by a strong story.
As I mentioned, the story is set in the Australian outback and follows Police Officer Hirsch, who has just been stationed in a remote outback area of South Australia.  Hirsch has been ostracised by his fellow officers,  as he has been involved in a whistle blowing case against corrupt officers in the force.  Hirsch is mistrusted, threatened and outwardly disliked.  
When he is sent to investigate shots that have been heard fired in Bitter Wash Road, slowly a tale of corruption, organised crime and deception unravels, leaving the reader guessing at every page turn, who the perpetrator could be.  
Absolutely mesmorising –  a very strong 5 out of 5.
A Tap on the Window – Linwood Barclay (fiction)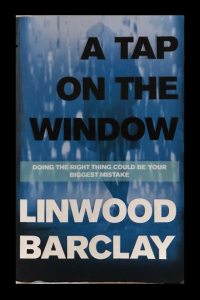 Again, Linwood Barclay is a new author for me.  This time the story is set on the Canadian/American border. 
Cal Weaver is a private detective who is drawn into becoming a murder suspect when he picks up a teenage girl, hitchhiking in the rain, who taps on his window at a set of traffic lights.  She tells Cal that she knows his son and makes Cal feel that he really can't leave her alone in the dark and the rain.  However, his act of good samaritianship backfires and he quickly becomes drawn into the hunt to find a killer.
Because of the way the story is written, I feel I can't really divulge too much of the story line without spoiling it.   Barclay has a wonderful way of writing that keeps you guessing as to what is happening, as he slowly drip feeds pieces of information through the chapters.  
I can certainly recommend this book and again I will be looking for more books by this author.  Another 5 out of 5.
The Body on the Moor – Nick Louth
Louth is another new author for me, with this book forming part of his DCI Craig Gillard series.   The story follows what happens when a major drug gang is busted.  A junior barrister (Julia McGann) is instructed to represent Terence Bonner, the gang's dangerous and evil enforcer.  At the same time a respected headmaster is found murdered.  A pair of gloves appear to link this crime to the recent burglary at Julia McGann's house.  
This book was another easy and enjoyable read, ensuring I kept wanting to turn the pages.  However, even though the story was really enjoyable, with plenty of twists and turns, overall I found the details of the story somewhat unrealistic.  I appreciate that story telling isn't always realistic and overall should be entertaining, which this book certainly was.
Overall a 3.5 out of 5 for me. 
Drop me a comment below, and do let me know what you've been reading this month. I love hearing about good books! 
If you missed my last book review you can catch up here