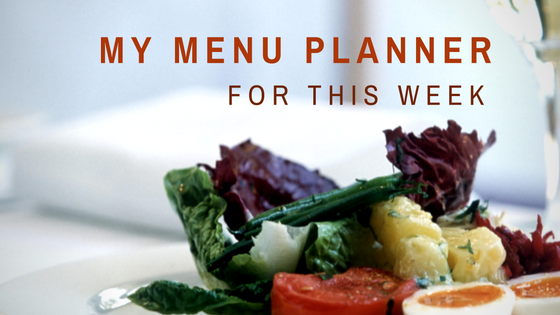 Hello everybody
This week has been a really manic week – school plays, social engagements, kids afterschool activities, a close relative in hospital.  All these factors have conspired to make a lot of late nights and juggling hard to keep balanced eating habits sustained. 
It's at times like this that I find a menu planner for the week really helps.  I can come home and know exactly what I'm cooking, know I have all the ingredients and crack on.  I'm much less likely to fall into the trap of wasting time waiting for a takeaway and use that time instead to cook a healthy meal at home.
So, here's this weeks menu planner.  I hope it helps to keep you sane this week!
Cumin and garlic salmon with a avocado, sweetcorn and red pepper salsa, potato wedges and salad

Sweet chilli and ginger pork stir fry with rice

Mexican chicken with rice and tortilla chips

Spicy Thai turkey burgers with salad

Satay Pork stir fry with turmeric rice

Homemade Lasagne
Please like and share this post on Facebook.
Have a wonderful week.