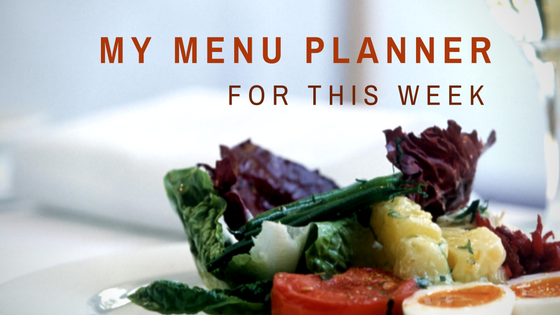 Hello everyone.  Firstly, apologies for there being no menu planner last week,  but it was half term and I was away.  I managed to avoid doing too much cooking – just some homemade Tacos, a few takeaways and lots of meals at the pub!
Here's this weeks meal planner for you:-
Sweet and sour pork with rice and vegetables
Cajun Salmon with sweet potato wedges and salad
Seabass with sweetcorn salsa and creamy baked potatoes (I buy frozen seabass for this)
Avocado and chicken parmigiana with mashed potatoes and stir fried vegetables
Spicy Lamb meatballs, in a tomato sauce with linguine
Homemade chicken korma and rice
Sausage, eggs, chips and beans!  (Yes, I know, not terribly healthy but it was a meal I could get the husband to cook as I was running the kids around until late! – life is all about balance)
I hope you have a super weekend.
Please like and share this post with your friends if you find it helpful.