This post is part of the #What'sonyourBookshelfchallenge
Hello Everybody,
Well, this is my first book review post in 2023.  Scarily I haven't done a book review since November, so it's a bit of a bumper edition.  I really don't know where time is going at the moment.  Perhaps there is some new black hole in space that is sucking away my time 🙂
One way or another I received lots of books over the Christmas period so now my bedside table resembles a mini library however i would really love to have a home library like this: The Virtue of Owning Books You Haven't Read
Thanks to the following bloggers for allowing me to take part in the #Whatsonyourbookshelf challenge.  
Donna from Retirement Reflections
Sue from Women Living Well after 50
Please following the link here to check out the other book reviews in this challenge (oops I missed the deadline but you can still check out the other reviews!) 
Shaving with Parkinson's – Paul Gray (poetry collection)
First up is this anthology of poems written by my father.  He has self published so there are a only a limited number of books available.  If you are interested in obtaining a copy, then email me and I will see what I can do.
I feel it's a wonderful achievement to:
write a book
get it published, especially is you are self publishing
Sharing your work with the world, as it's often very personal and can be upsetting if you receive negative reviews. 
So, hats off to my Dad.  I hope it inspires him to do more.
Ink Black Heart – Robert Galbraith (fiction)
This was a very meaty book – thick with small print on very thin pages!
It's the latest in the Cormoran Strike and Robin Ellacott private detective series written under a pseudonym by J K Rowling.
Edie Ledwell is one of the founders of an extremely successful online cartoon called The Ink Black Heart.  It has a cult following with fans often going to very extreme lengths to protect their cartoon.
Edie comes to Robin and asks for her help to track down a mysterious online figure called Anomie who has been trolling her online, becoming more and more aggressive and extreme, especially when rumours leak that The Ink Black Heart could be made into a film.
Robin decides that the agency can't really help but then Edie is found murdered, and her business partner left critically injured at High Gate Cemetary, where the cartoon is set. Robin and Cormoran are then drawn into the quest to find out who Anomie is because he or she could be Edie's killer. 
I loved being immersed back into the lives of Robin and Cormoran and their 'will they won't they' love tension.  However, I found the actual storyline quite hard to follow.  There are a lot of characters all with online aliases which I found hard to keep track of.  There are also large sections in the book of group chats which again is difficult to read and follow.  
Overall I did enjoy the book but I didn't think it was one of Galbraith's better ones.  
The Favour – Nicci French (fiction)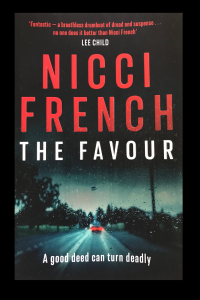 Nicci French is actually the pseudonym for the UK husband and wife duo Nicci Gerrard and Sean French.  They have been writing for some 25 years with a vast library of books written both together and separately.   They both studied English Literature at Oxford University but didn't meet until much later in life.  Nicci became a teacher, journalist and editor of The New Statesman., whilst Sean entered journalism and became a radio producer and film critic. 
I've actually booked to attend a talk by them later this month at one of our local libraries so I thought it would be useful to read their latest novel The Favour.
Jude, is a successful doctor on the verge of marrying. Her life is perfect until her first love Liam from ten years previously, appears at her hospital and asks her to help with a strange favour.  Jude's agreement to help Liam plunges her life into a world of lies, revenge and criminality which could cost her everything, including her life!  
This was a great story, which I whipped through in record time.  It certainly raised a few questions in my mind as to whether I would ever agree to help someone from the past without thinking about the consequences.  
Overall this was a great read – perfect for a holiday relaxing by the pool.  
The Dark Lake – Sarah Bailey (fiction)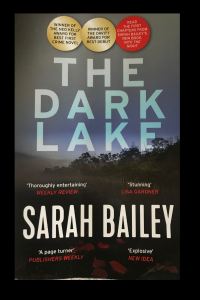 This is Australian Sarah Bailey's debut novel.  I think she now has several more novels under her belt, so I will be off to search them out.
A beautiful teacher is found murdered, her body left floating in the lake strewn with red roses. Detective Sergeant Gemma Woodstock is assigned to the case but she conceals the fact that she knew the murder victim from her high school years.  As the investigation digs deeper into the victim's life, more and more secrets threaten to come to light that involve Gemma, which could jeopidise everything she has worked so hard to put behind her.
I really enjoyed this book.  Bailey has created great characters, which I could relate to as they are full of flaws.  There are also plenty of twists and turns to the murder mystery which keeps you guessing who the murderer can be.  I did guess the murderer fairly early on, but I don't know whether it was just by fluke.  I'd be interested to know what others think and whether they guess the murderer too. 
Overall a great read which flowed really easily.
A pocketful of Happiness – Richard E Grant (Memoir)
I'm always a little sceptical about reading memoir's/biographies from movie stars or celebrities, as you feel they will want to ensure they paint themselves in the best light.  Surprisingly though I did enjoy this book and felt that it provided an authentic insight into the highs and lows of Grant's life and his relationship of 40 years with his wife Joan Washington, a famous dialect coach.   
Grant is very honest in describing his emotions and struggles to support his wife through her terminal illness,  which claimed her life in 2021.  He talks openingly about how heartbroken he is now that she has gone.   As she was dying she told Grant that he should look for a 'pocketful of happiness' in every day.  He is emphatic that this small request by her has really helped him when he has felt at his lowest.  
This book was a true celebration of life and a reminder that we should never take life or those who mean the most to us for granted. 
Overall a good read, especially if you enjoy memoirs. 
Silverfin – Charlie Higson (fiction/audio book)
Prior to Christmas, we had a family road trip down to Sydney i.e.  8 hours each way in the car.  To help keep the kids and the driver entertained, I downloaded this audio book from my library.  Yes there are many options for listening to audio books these days, but not many of them are free like the library!  So, I would highly recommend checking out your local library to see what's on offer.  
This book is a kind of family favourite.  Our two eldest boys listened to the CD version on holiday trips in the car when they were young, so I thought I would get my two younger teenagers into the books too.  
The book is centred around the premise of what happened in the childhood of a young James Bond.  Higson does a great job of describing Bond's early life and the possible influences that made him the great (fictional) spy he was.  
The book starts with Bond being sent to Eton and his struggles to fit in and understand all the rules, regulations and traditions that the school follows.  Whilst Bond begins to make friends, he is also plagued by bullies.  By the time the holidays come around, he is grateful to be heading off to Scotland to stay with his Aunt.  Little does he know that he will soon be on an adventure to discover what the mysterious and deadly loch called Silverfin has to do with the disappearance of a local boy.  
I loved all the books in this young James Bond series and would highly recommend them, especially if you have reluctant 'boy' readers in your household.  The sense of adventure and danger immediatly grabs the reader.  I can't understand why they haven't been made into a film/TV series but it would have to be done sensitively so as to not spoil the books. 
Well, that's it for this month.  Drop me a comment below, and do let me know what you've been reading this month. I love hearing about good books! 
If you missed my last book review you can catch up here