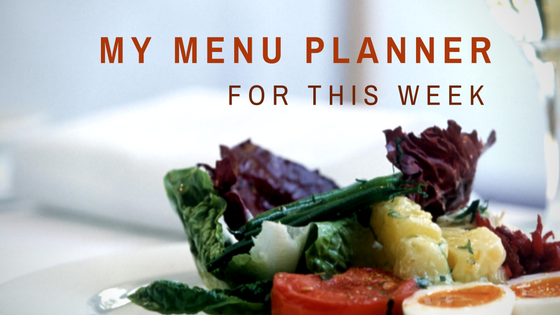 Hello Everybody
As I type this the sun is out and I'm hoping for a BBQ tonight!  I hope you are experiencing the same weather.
Here's my menu planner for this week.  I only have five meals for you as half the family were out during the week so the rest of us had an omelette night.   This means I have a meal left over from last week to use up.
I hope this gives you some inspiration:-
Buffalo chicken with potato salad and salad (this is a new recipe I'm trying – chicken marinated in tomato paste with peri peri spice, dipped in floor and then cooked in a frying pan – I'll let you know if it works!)

Chicken and vegetable lasagne with side salad

Thai green curry and coconut chicken breasts with rice salad

Honey and ginger salmon parcels, new potatoes and steamed greens

Rigatoni Bolognaise
Hoping you all have a super week and get to enjoy some sunshine
Please like and share on the social media buttons below.