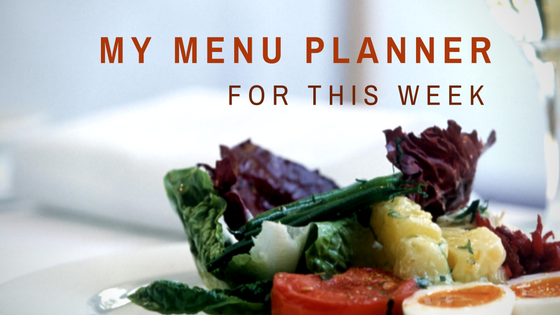 Hello Everybody
Firstly, apologies as my post is slightly late this week.  School holidays have completely messed with my routine!  At least my weekly menu planner helps keep things on track at meal times. 
I read this week that Mary Berry also prepares a meal plan each week, so if it's good enough for her – it's good enough for me.  What a truly inspiring lady!
So, here's some inspiration for your meal plan this week:-
Asian Chicken breasts (or drumsticks) with rice and bok choy

Spaghetti and meatballs

Cajun crusted salmon with avocado and mango salsa and roasted new potatoes

Lamb steaks, chilli tomato salsa, mashed potato and stir fried vegetables.

Smoked salmon quiche and salad

Chicken burritos and salad
Have a wonderful week everyone and enjoy the school holidays.
If you like what you see, please share and like on social media.
P.S. As I write this, I'm actually making the kids some chilli chicken tacos as an extra meal to the planner.  That's because I forgot we parents are actually having a night out without them!!  Happy Days.