I have a bumper book review on the theme of food and travel this month as I missed the deadline for last month's blog post!
If you have followed me for a while, I hope you will have realised by now how much I love food, books and travel.  So, when I find books that combine food, interesting settings and a good read, I'm in heaven.
I think we all link memories and places with food.  This is why we have our favourite comfort foods that remind us of home, family or transport us to our favourite memories of holidays abroad.  This is why I particularly enjoy books that connect food with travel  
As I love food so much I find it hard to pinpoint any one food to classify as comfort food but I do have happy memories of:-
Fruit crumbles made by my mum
Cakes and cookies made by my mum
Homemade jam, including weird ones like apple butter, made by my mum
French patisserie cakes which remind me of childhood trips to Jersey and also adult holidays in France with my own kids.
any Italian food, which again reminds me of holidays with the kids.
Do you have any favourite comfort foods?
Right, now that I have made myself feel hungry, lets get on with the book reviews: 
Trace Elements – Donna Leon (fiction)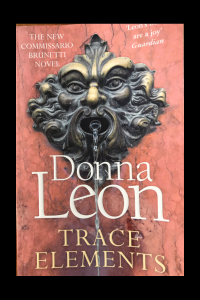 I was delighted to receive this book in the post as a surprise parcel from my mum.  She introduced me to this author some time ago and I have been slowly reading my way through her prolific output of work.  Donna Leon has been named by The Times as one of the 50 Greatest Crime Writers. 
This book is from the series featuring Commissario Brunetti who is a police detective based in Venice, Italy.  Each book covers a different police investigation but every book has the special ingredient of a full description of the food that Brunetti is eating as he goes about his day.  The books also include beautiful descriptions of the city of Venice.  Whether you have been to Venice or not, it is very easy to imagine yourself there.  Leon's writing is always atmospheric and highly descriptive. 

In this book she immerses the reader into the heat of Venice in the middle of summer, surrounded by the congested throngs of tourists.  In one of her other novels,  (Death at La Fenice I think), she perfectly described the thick, gothic like mists that shroud Venice in the winter months.  As Leon has lived in Venice for over 30 years, you know you are getting an authentic local insight into daily life there.  
The investigation in this novel centers around the words of a dying woman who tells Brunetti "They killed him.  It was bad money".  Brunetti then sets out to try and establish what happened to the dying woman's husband.  He discovers that the husband worked for a company who test the water that supplies Venice.  The husband had been killed suddenly in a motor cycle accident and so the dying woman's last words did not make any sense.   As the investigation digs deeper into the people surrounding the couple, the truth begins to unravel.  
As I mentioned before, I really enjoy these books as you feel totally immersed in the Venice lifestyle.  The books remind me of happy holidays with my kids there.  Leon also describes all the wonderful foods that Brunetti eats during the day, so I am also reminded of the fantastic bistro's by the canal where we ate dinner and lunches as we walked around Venice.  This isn't a fast paced book, more a very gentle insight into the daily life of a police detective.  For me this is compensated for by the setting and the descriptions of food! 
A Taste of Venice – At Table with Brunetti – Culinary Stories by Donna Leon, Recipes by Roberta Pianoro (non-fiction)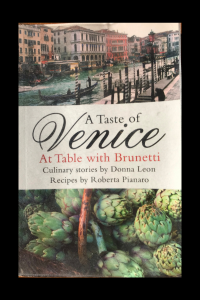 This is another book that my mum gifted to me but some time ago.  I dip into it every so often when I am looking for meal planning ideas.  
Basically it is a recipe book of all the foods that Brunetti eats during Leon's stories.  It's a very clever link up to her fiction novels.  
This book again makes you feel like you are getting a true insight into the Italian mindset around food and eating.  The recipes cover antipasti, first course, vegetables, fish and seafood, meat and desserts!  
This is a great side dish to Leon's novels! 
Keeping on the food theme:
The Little Cafe by the Lake – Joanne Tracey (fiction)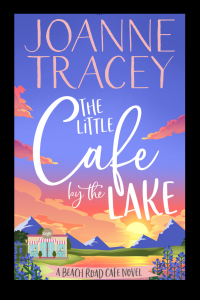 This book is by one of our very own bloggers in this link party,  Jo at AndAnyways.
The setting for this book is on the shores of Lake Wakatipu near Queenstown, New Zealand.  We had a wonderful family holiday in the area back in 2015, so I really enjoyed the references to places that we had visited when we were there.  The other bonus is that as the story is set around a cafe, there are plenty of descriptions of food!  The storyline centres around love, family and family secrets.  Jo expertly describes her characters and how their actions impact each other.  In addition, at the end of the book Jo has included some of the recipes mentioned in the story.  I shall definitely be trying these out and imagining myself at The Little Cafe.  This book is a really enjoyable, relaxing read but it did make me contemplate the secrets that families hide from each other.  I shall definitely be checking out some more of Jo's books.
The Maidens – Alex Michaelides (fiction)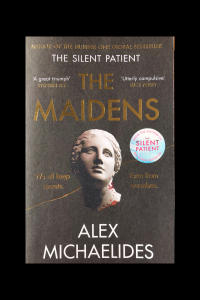 This book is the follow up to The Silent Patient, which if you haven't read it, I highly recommend.  The Silent Patient was a remarkable book due to its unusual twist at the end, so one always wonders if a follow up book will be as good.  I think Michaelides has lived up to his debut book.  I really enjoyed this novel which follows the mysterious murders of several young girls at Cambridge University.  The main character Mariana becomes drawn into trying to solve who the killer is.  Michaelides keeps you guessing right to the end as to who the killer could be.  
Since my early teens I have been reading books that have inspired my desires to travel.  Some of the ones that come to mind are: 
The Jungle Book by Rudyard Kipling,
Death on the Nile by Agatha Christie (I love Egypt!)  
Wild Swans by Jung Chang,  
Moomin series by  Tove Jansson,  
The Chalet School series by Elinor M. Brent-Dyer, 
Anything by Gerald Durrell.  
Do you have a favourite comfort food or travel inspiring book?
Drop me a comment below, and let me know what you have been reading this month. I love hearing about good books! 
This post is part of the #What'sonyourBookshelfchallenge
Don't forget to check out all the other great book reviews in the link party here
In the last few months I've started following four wonderful Midlife bloggers who have inspired me to get motivated with my blog again:-
Donna from Retirement Reflections