Hello Everybody,
If you follow me on social media you will have seen that we spent our family holiday in Europe this year visiting Switzerland and Italy.
I wasn't won over by the food in Switzerland, but that may have been due to the touristy areas we were visiting and our restaurant budget.  There seemed to be a plethora of pizza and burgers everywhere.  Then, when I decided to cook in our Airbnb accommodation I made the mistake of selecting horse meat from the supermarket instead of steak!  
Our food experiences were saved by Italy.  We went back to our favourite hotel in the Dolomites – Ostaria Posta.  It's a family owned hotel and the food is always amazing.  Many of the vegetables are grown in their own kitchen garden. 
So, without further ado here are the edible delights we experienced.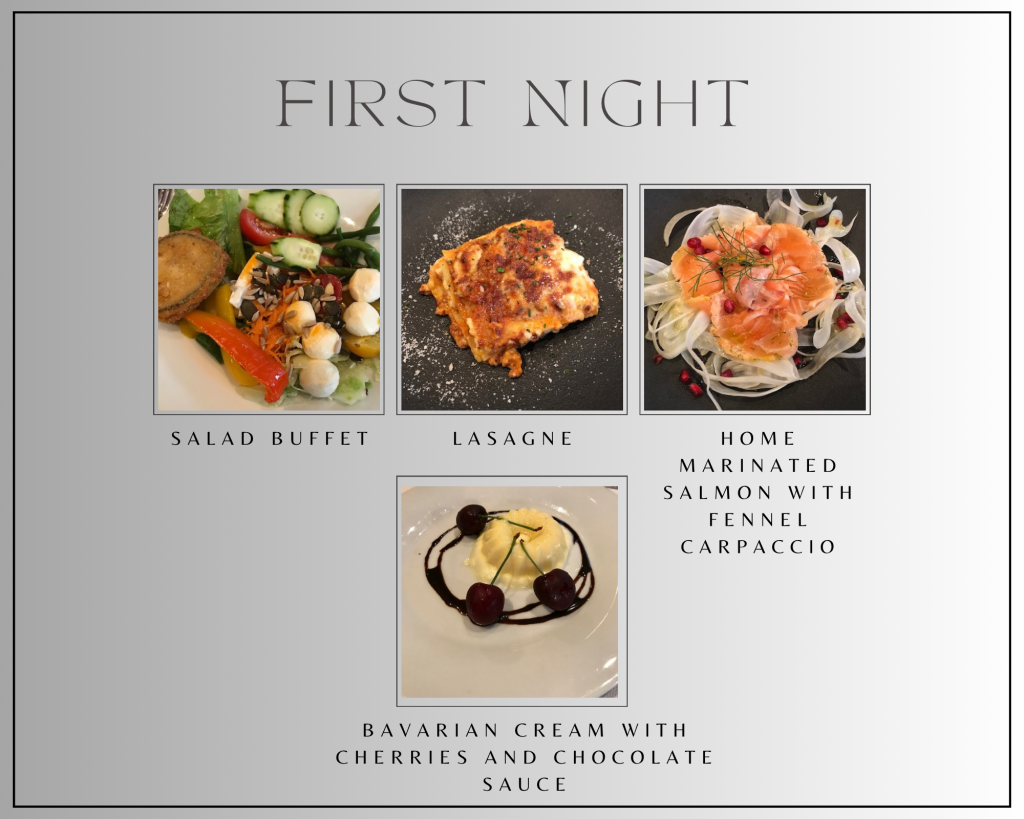 Every night there is a wonderful buffet salad bar which my teenage boys love. This forms the first course and it's so easy to over eat and then be full for the rest of the courses.  A very bad mistake!
The lasagne – what can I say.  This lasagne is the best I have ever eaten which I guess it should be in Italy.  I'm assuming it's due to using fresh homemade lasagne sheets and the perfect sauce.  It's something I should aspire to recreate but I never seem to have the time to make pasta from scratch.
The marinated salmon was tasty but didn't blow me away.
Dessert – the desserts at Ostaria Posta are made by the owner's daughter in law.  She has perfected some amazing desserts.  After a long day of walking in the mountains,  we are always excited to taste each night's delight.  
Whilst the Bavarian cream looked a little plain, it did have the perfect delicate vanilla custard flavour and was a hit with everyone.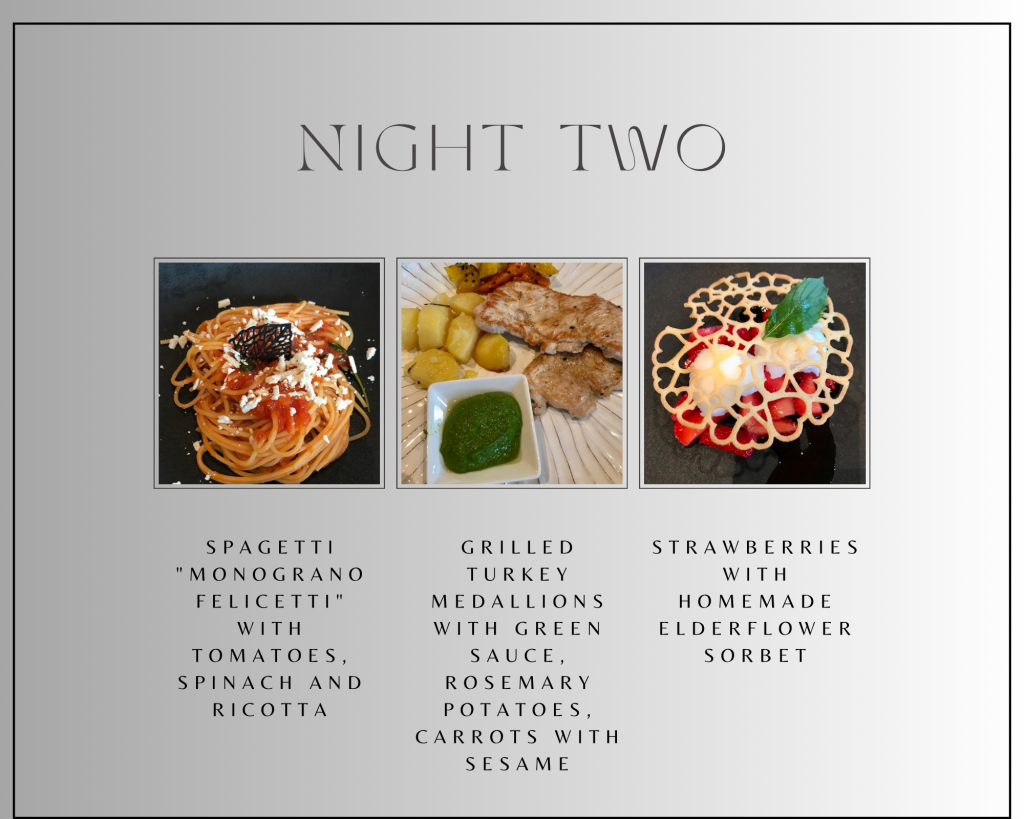 The spaghetti was a perfect small portion, and served al dente which the kids weren't quite so sure about.  I guess I have been overcooking my pasta for years!
The turkey was flavoursome and juicy.  The potatoes were seasoned with herbs providing an extra level of flavour and the green sauce added the finishing touch to the turkey. 
Dessert – the strawberries had been marinated to make them super juicy.  The beautiful lacy heart topping was made from a shortbread style biscuit. The elderberry sorbet was so delicious!  Another winner with the kids.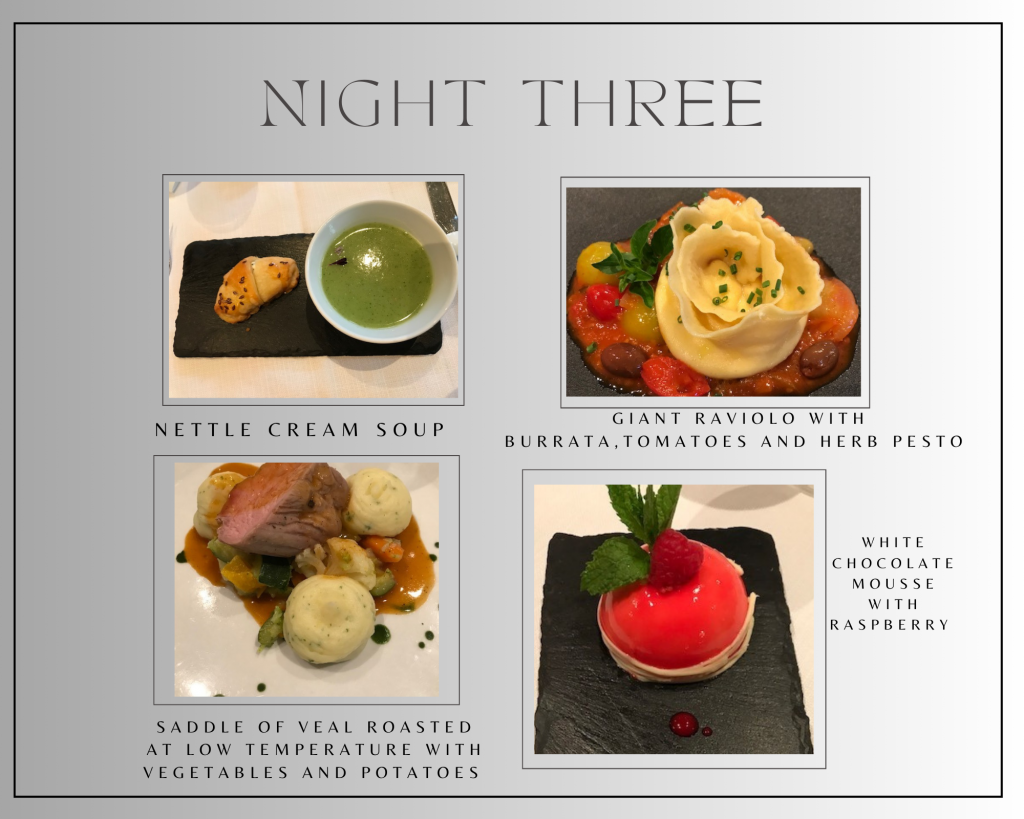 So, the kids were not sure about the nettle soup but it was a super delicious and creamy soup with a subtle flavour.  
The giant raviolo was soft and oozing with burrata.  Again a wonderful flavour combination with the fresh tomatoes and olives. 
I wouldn't usually go for veal, but I can't remember what the alternative was but I didn't fancy it.  I have to say the veal was so juicy, tender, and expertly cooked.  The mash was flavoured with herbs and was soft and fluffy.  Again a wonderful main course.
The White Chocolate mousse – I'm not sure if this might have been my favourite dessert of the week.  The combination of sweet white chocolate mousse, with a raspbery coulis inside the middle of the mousse was absolutely divine.   Hmmm, I'm craving those flavours again!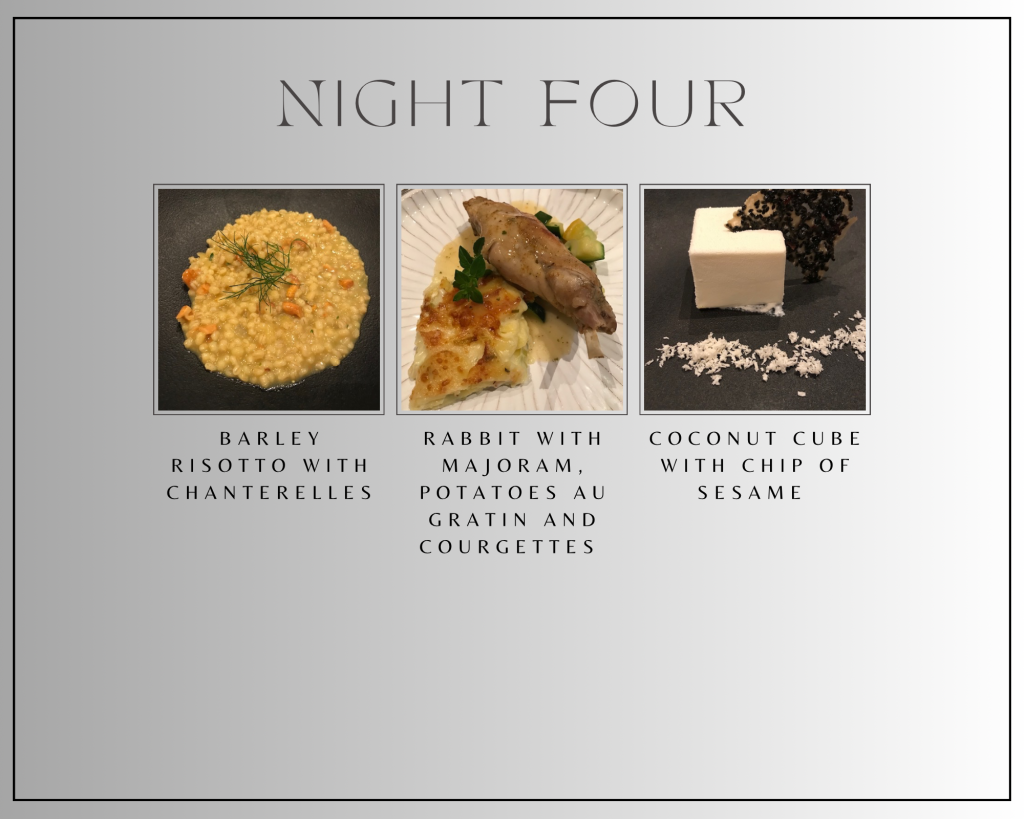 Well risotto is always a winner with me, and the barley gave this one a lovely nutty texture. 
Again, the kids weren't sure about having rabbit but it was super tender and tasted like chicken chasseur.  The potatoes au gratin were amazing – one of my favourite ways to eat potatoes.  
The coconut cube was like a sort of mousse crossed with panna cotta.  The chip of sesame was like caramelised sesame brandy snap.  A little unusual and a bit chewy.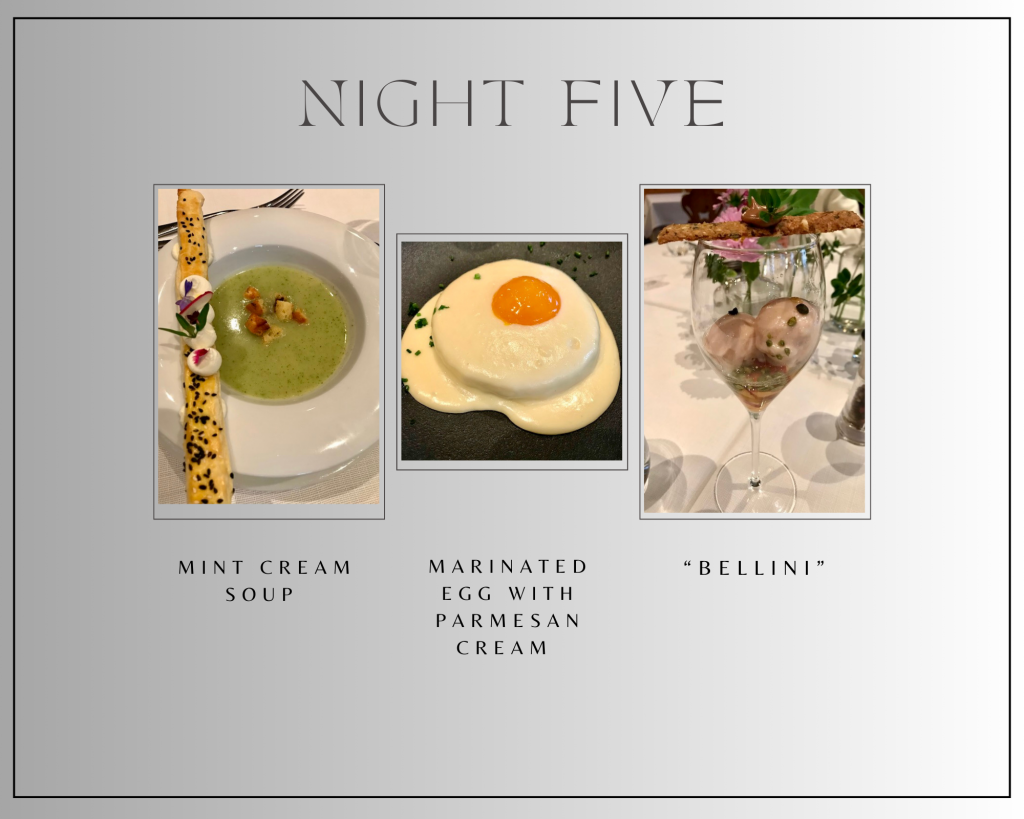 The mint cream soup was very light and refreshing and I loved the delicate decoration on the puff pastry stick that came with it.
The marinated egg – I choose this over sticky ribs, as I'm not a fan of them.  If I'm honest this dish was a little weird.  Two slices of white bread, cut into circles.  A parmesan bechamel sauce poured over, with the marinated egg yolk served on top.  I'm not really sure what the egg yolk was or how it had been prepared but it did taste like egg. 
The Bellini – well this was an interesting one for the kids.  Slices of fresh peaches, with peach schnapps poured over and scoops of peach sorbet.  The schnapps was very stong!  The kids tried it but said it blew their heads off.  I went to bed very merry as I had quite a few leftovers from them to finish off 🙂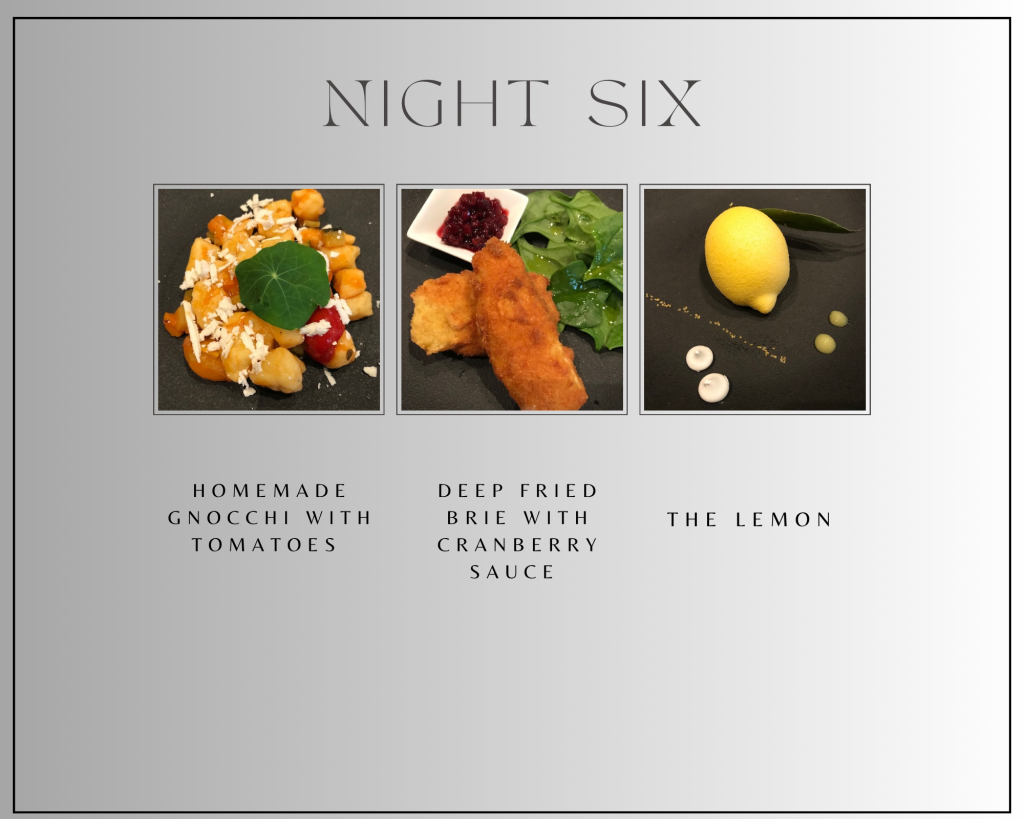 My experience of gnocchi has been limited to very bad versions served in chain Italian restaurants in the UK, which basically put me off it for life.  Needless to say, the real deal was oh so much better!
The deep fried brie with cranberry sauce is a dish that I cook at home so very happy with this one.
The Lemon – this is somewhat of a cult dessert now.  A very perfect resemblance of a real life lemon, but when your spoon slices through the dimpled yellow 'skin'  you find a light, fluffy lemon mousse with a lemon sauce in the middle.  Exquisite!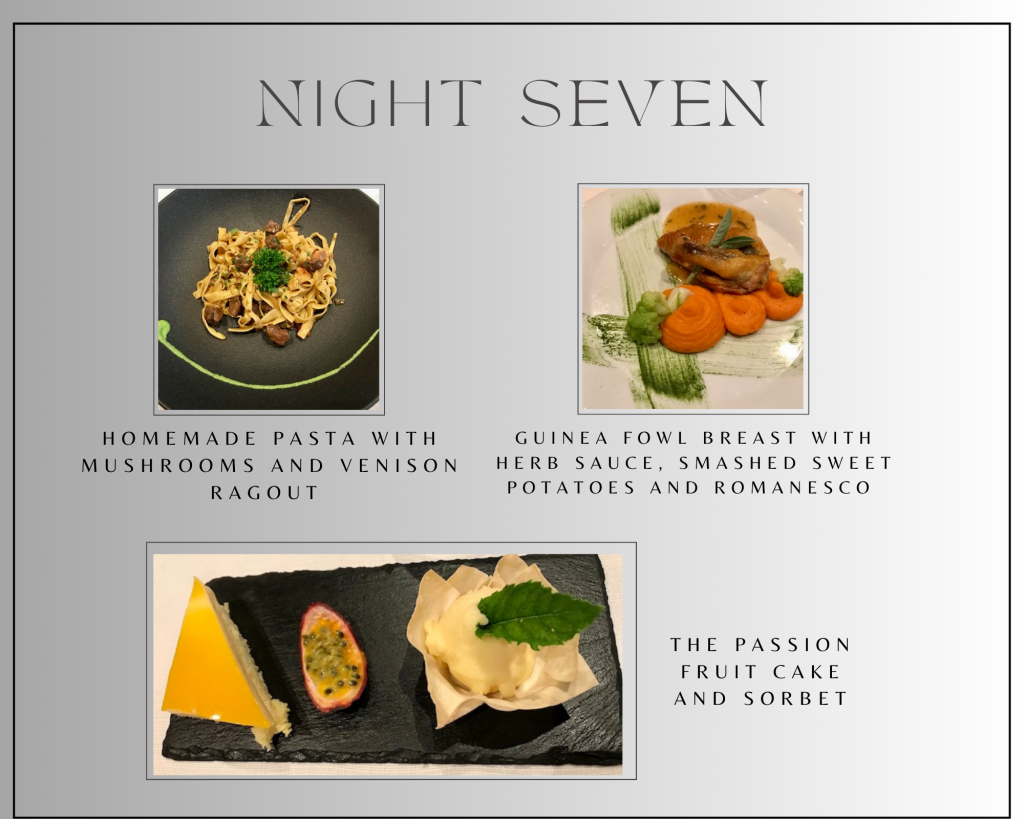 Another light portion of pasta to help get the taste buds started.  Again I wouldn't normally pick venison but these were very small morsels complemented by the mushrooms.
The guinea fowl was sweet and tender.  Unfortunately, it brought back memories of the flock of guinea fowl that we used to have in our English garden.  They were always escaping, noisy and a bit of a pain really -pretty though. 
The passion fruit cake is another icon of the restaurant.  This is a slice of light, fluffy sponge, topped with a tangy, passionfruit custard or mousse.  The sorbet alongside was also perfect.   The kids aren't keen on fresh passionfruit so my plate at the end looked like a passionfruit tree had been decimated. I do hate waste though!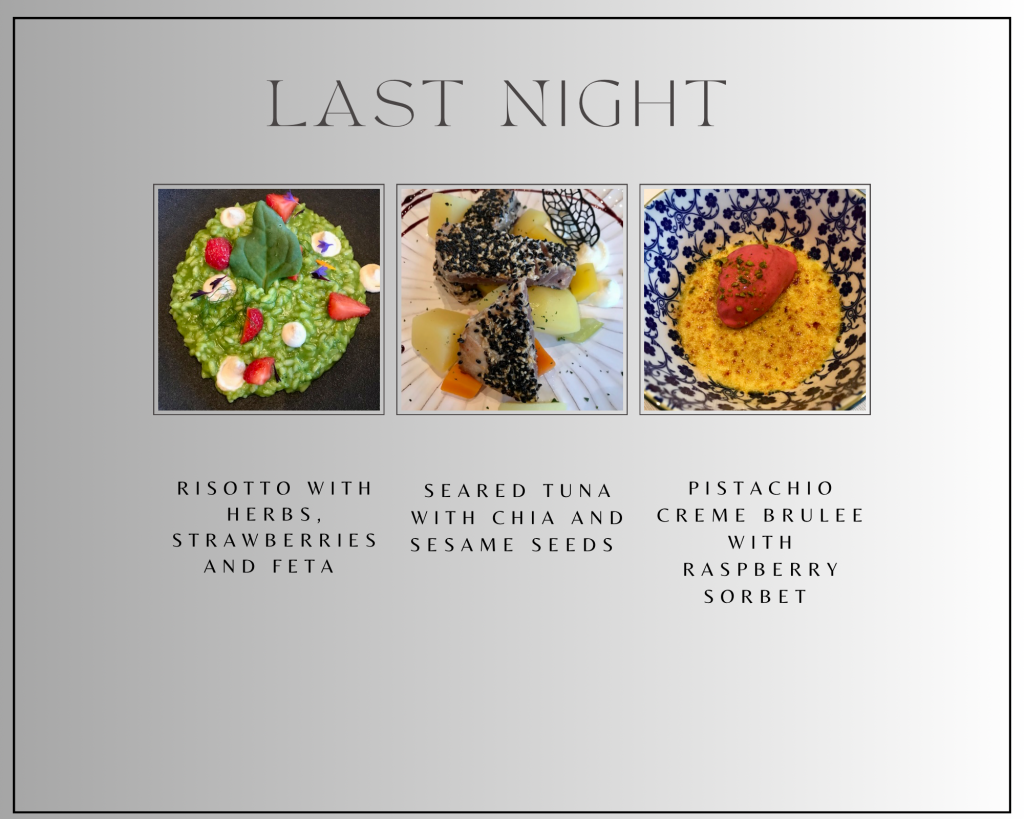 The herbs for this risotto came from the kitchen garden.  I loved the addition of strawberries which really complemented the whipped feta.  This was a stunning dish, and tasted as good as it looked.
Tuna – I always find tuna to be a bit hit and miss.  So many times I've ended up with a dried out lump of fishy cardboard but not this time.  This was succulent and perfectly cooked.  
And finally, the last dessert of our stay.  This pistachio creme brulee was everything a brulee should be, rich, creamy and smooth.  The raspberry sorbet delivered a tart tangy juxtaposition to the creamy brulee. 
So, there you have it.  The absolutely delicious week of Italian food we enjoyed in the Dolomites. 
Needless to say, my waistline hasn't forgotten it at all!. 
What's been your favourite holiday food this year? Tell me in the comments below.
Happy eating everybody! 
If you want to make sure you never miss a recipe sign up for my newsletter HERE
Thanks to the following ladies for sharing this link party and inspiring me to keep blogging:
Donna @ Retirement Reflections
P.S. If you missed my lastest recipe post you can check it out here:  Ricotta Tiramisu Overnight Pots