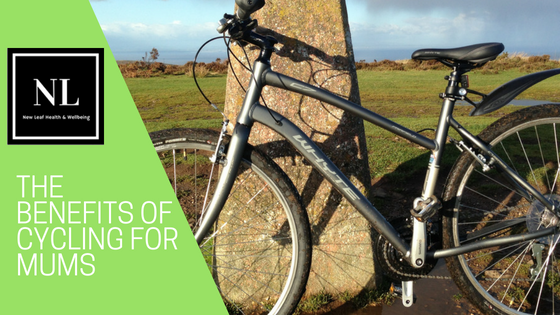 **Disclaimer: The review of the Whyte's Fairfield Women's bike is a completely independent review and is my own experience and opinion of the bike.  However, this post does contain some affiliate links.  As an Amazon Associate, I earn commission from qualifying purchases**
Hello everybody,
The Benefits of Cycling for mums:
One of the areas I really struggle with improving in my life is exercise and I expect this is the case for all you mums out there.
Unfortunately, the old quote "you can't out run a bad diet" may not be completely true.  I  believe that you still need to address diet and exercise as a two pronged approach to living healthy.  There's  increasing scientific evidence that exercise has a positive impact on gut health – regardless of whether you change your diet or not.    Exercise has also been proven to have a positive effect on mental health and general feelings of wellbeing.
When you have kids, finding ways to motivate yourself and find time to exercise becomes even more complicated.  So, here's:
5 reasons why cycling is a great exercise for mums:-
As cycling is a form of transport it can be easier to incorporate it into our everyday lives.  Cycling to work, according to a study by the British Medical Journal in 2017, significantly reduces the risk of developing and dying from cancer and heart disease.  Perhaps you can incorporate cycling to school or work as part of your everyday routine?  Or whenever you need something small from the local shop, jump on your bike rather than get into the car.
Cycling can also reduce the risk of chronic illnesses such as heart disease, Type 2 diabetes, stroke,  reduce blood pressure, cholesterol and help control weight.  It also helps to reduce stress and is a good form of relaxation – essential for us mums!
It's a great way to bond with our children.  Getting outdoors and experiencing exercise together is really important for family mental health.   Did you know children should be exercising for 60 minutes per day?  I know mine don't achieve that, so cycling together will improve both mine and the children's exercise levels.
If your parents are fairly active, you could get them out on their bikes too.  Cycling is a great activity for grandparents as it's a low impact exercise which is easier on joints.  I certainly find it easier on my arthritis than running.  This increases family bonding with the older generation.
You can start cycling with your  children from 12 months – with them sitting in a bike seat in front or behind you. Even now as a mature grown up, I can remember sitting as a child behind my mum on her bike.  However, have someone on hand to help you when you try this for the first time.  Trying to get onto and start peddling with the extra body weight of a child balanced on your bike takes a bit of getting used to.     You can then move over to a tag-a-long, before starting the process of teaching them to ride their own bike with stabilisers – hard work but fun!
Tips for cycling with your kids:
Plan your route carefully.  Obviously try to avoid busy roads and preferably use cycle paths, tow paths or country tracks.  Also if they are very young and cycling themselves,  avoid any hills – mind you I don't like hills either!
Make sure you have plenty of  snacks and drinks to keep them hydrated and motivated.  Making a purpose for your cycle ride can also be helpful – maybe cycling to the park or a playground, the shop or a local café.
Make sure they have appropriate clothing: in summer, hats and suncream, in winter lots of warm clothing as children chill quickly just sitting on the bike.
Ride in a line, with your children in the middle or if you are the only adult, cycle behind your children keeping an eye on them.  It is a bit un-nerving watching them swerve around but they will get better!
Most importantly, don't forget cycle helmets for everyone!
For more cycling safety tips check out http://www.nhs.uk/live-well/exercise/cycling-health-benefits/
Why I love my Whyte's Fairfield Women's bike
My lovely husband bought me a new bike for my birthday.  This is a hybrid bike i.e.  it's designed to provide a good ride both on road and off road.  My previous bike was a rather heavy mountain bike.  As I mainly tend to cycle on lanes around my home (which all involve a steep hill) a mountain bike was always a comfortable ride but it was a really heavy and tiring climb up the hills.
It's easy to become despondent and demotivated if you know every time you exercise it will be hard and painful!.
So, my new bike makes the whole experience much more enjoyable because it has a lighter alloy frame.  I'm not very technically minded but apparently it also has up to 27 gears provided by a Shimano gearing system which makes the up hills so much easier!
I gave the Whytes Fairfield a trial first as a mountain bike with my youngest son and a friend and her son.
The gearing was easy to master and I bumped along very smoothly.  However my bum did get a bit sore – I think that was mainly due to me being out of shape though!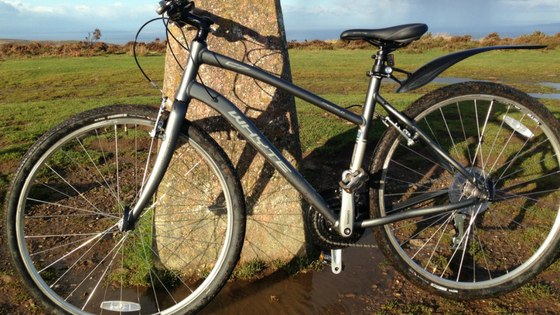 I love the handle bars which are much more ergonomically designed to make it easier for my achy, arthritic hands to hold and operate the brakes.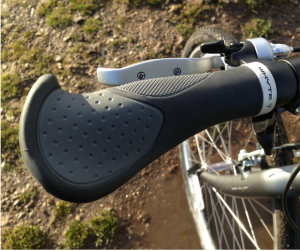 The seat is wide enough for a female bottom.  I love the stitching detail and the Whytes logo of a deer head.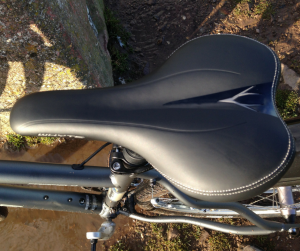 So, as you can see, having a bike can be great fun, especially with the kids.  If you do decide to get a bike go to a reputable bike shop, who will make sure the bike is the right size for you and will be able to advise you on all the technical bits!
Remember you can get out cycling anytime you want, in anyway you want.  Cycling provides a great family activity, or you can buddy up with a friend to help motivate you both.  I would especially recommend finding a route with a coffee stop half way round, so you can have a quick pit stop and make it a more sociable way of getting your exercise in.
My last tip:-
Treat yourself to some nice gear – you will feel more motivated when you put stuff on that makes you feel good.  A sloppy old t'shirt and baggy jog pants don't motivate you in the same way.
Here's to sunny days, cycling through the countryside to lovely tea gardens and cafes!!