6 Healthy eating holiday tips
I absolutely love holidays.  They're a great time to relax, enjoy time with loved ones, explore new places and enjoy food!!!
When on holiday though,  the last thing you want to do is restrict what you eat and drink.   However, I believe that by making a few simple little tweaks here and there to your food choices you can still stay on track with your healthy goals.  Here's my 6 holiday tips:-
1. Enjoy Breakfast
If you are staying in a half board or bed and breakfast hotel then make the most of the breakfast on offer.  You've got the whole of the rest of the day to burn this food off, plus you've paid for it up front!
If you are self catering, make sure you eat a healthy breakfast to start the day off right – lots of fresh fruit, yogurts, eggs and maybe a croissant or two!
2. Eat a light lunch
If you've eaten a big breakfast, then only eat a very light lunch.  A salad, or some fresh fruit should keep you going.  Obviously, children will need more – mine are always starving no matter how big a breakfast they've had.
3. Do some exercise
Try to do some exercise.  Get out and explore your holiday destination by walking as much as possible.  Use the pool or sea to set yourself a swimming challenge each day.  Spend time playing with the kids – tag, table tennis, cricket or tennis if available.
4. Keep track of your drinks
It's easy whilst on holiday to drink more beer, cocktails, wine and even sugary, fizzy drinks.  Whilst, it's important to enjoy your holiday, these extra calories do add up.  Just try to alternative your drinks with lots of water.  Tea and coffee is also fine but preferably without any added sugar.
5. Listen to your body
When your body says it's FULL – stop eating!
Yes, I know there are lots of temptations to carrying on eating but you really will feel better for listening to your body.  Filling up on the "all you can eat" buffet before bed will affect your sleep as your body thinks it needs to digest all that food instead of resting.
6. When eating out try some healthy swaps like the ones in this chart:-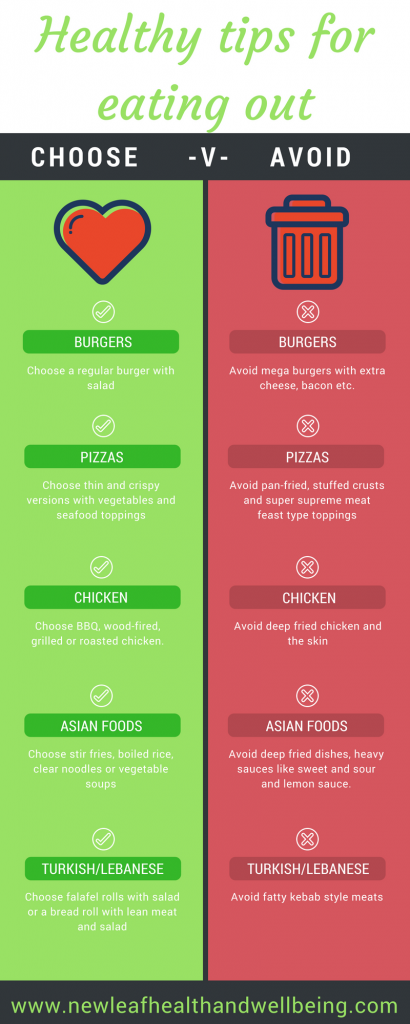 If you want some more ideas about changing and making new habits check out this post HERE
This week's meal plan:-
Cumin and garlic fish with salsa and creamy potato bake
Mexican chilli chicken and rice
Satay pork and oven baked turmeric rice
Quiche and salad
Sweet chilli chicken stir fry with noodles
Thai turkey burgers and salad
I hope you all have a wonderful week and if you are off on holiday soon, have a great time!.  I will be having a little break from the meal plan posts whilst I'm on my holidays.
Don't forget to sign up for my regular newsletter for updates and recipes from this site.