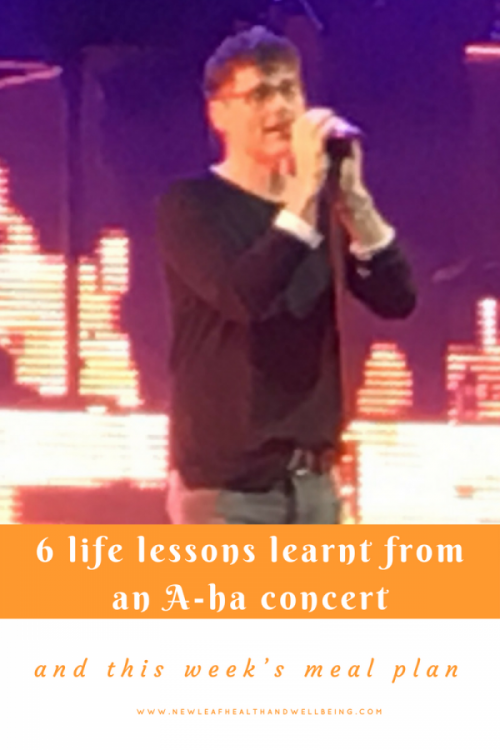 Hello Everybody,
Are you intrigued?  What life lessons could I possibly learn from an A-ha concert?
6 life lessons learnt from an A-ha concert
Well, I love people watching, so standing for five hours surrounded by a crowd of people gave me an opportunity to observe life and come to these six conclusions:-
Life lesson No 1 – Be present
It's important to be present in the moment.  It's easy to get distracted taking photos and/or videos when you're experiencing an event.  Yes, photos are a great reminder of an event, but if you're not careful you can end up spending all of your time viewing life through a small screen, instead of taking in the wider sights and sounds.
When I was travelling in my younger years I was always astounded by the tourists who would arrive at a beauty spot, jump out of their vehicles, take some photos and then leave again.  In my experience you will gain so much more by stopping, sitting or standing, breathing deeply and taking in the atmosphere of a place or activity.  Make time to really absorb what you are doing.
Life Lesson No 2 – Make time for fun
With our busy, stressful lives it's easy to forget to have fun.  As a mum of four kids, days and evenings easily become swallowed up by chores – stuff that needs doing but isn't fun at all.  It's easy to get stuck in a rut of just doing mundane stuff.  Make time to book in some regular activities doing things you really enjoy!  I know I need to work on this one a bit more!
Life Lesson No 3 – Make time for music
I'd forgotten how much joy music can bring.  Seeing three bands from  my youth brought back strong memories of my younger self.
Whilst it's good to move with the times and explore new music, playing music from your past reminds you of the things you used to enjoy.  This will help with point 2 above so that you can find activities to reinvigorate your sense of fun.
Music is also a powerful way to influence your mood.  If you're feeling low or need some motivation, then playing music that you associate with happy times can help boost and invigorate.  Likewise, you could choose music that reflects your mood and how you feel.  It's okay sometimes to  be quiet, reflective or a little sad – you don't have to (and it's usually not possible) to be happy all the time.  Just be wary of staying in that mood for too long.
Life lesson No 4 – Look after yourself
I'm always struggling to fit enough exercise into my life and I know this is a common problem for most people.  I also know how important exercise is as a preventive medicine.
Lack of exercise is the fourth leading cause of disease.  Guidelines suggest we should get 30 minutes of moderate intensity (being able to talk but not sing) five times per week or 150 minutes per week  (source: http://www.theirishbalance.com
After seeing the band and in particular Morten Harket, who at age 58 looks fantastic, I've been motivated to try much harder to do more exercise.
Eating healthy, exercising, not smoking or drinking can have amazing anti-aging effects!
Life lesson No 5 – Be aware of your surroundings
On a slightly darker note, I have a word of caution for ladies (and possibly men too).  Be aware of others around you.
We were standing throughout the concert in one area, as were most people.  There were couples, groups of friends and families.  Near us were two men who spent the whole evening getting drunk and chatting up any ladies who were there without men.  They spent a considerable part of the evening chatting up two girls in particular.
One girl went off to get drinks, leaving the other girl to keep their place.  Shortly after, one of the men chatting them up disappeared as well.  A good 20 minutes or so passed and I could see that the girl waiting was beginning to become concerned that her friend hadn't returned.  Eventually she did appear, drinks in hand, followed shortly after by the man.
Now, most likely nothing happened but there was a risk that by splitting up the girls had made themselves vulnerable to a possible danger from these drunken men.
Probably, the girls and men were just looking for some fun, but be careful not let the pursuit of fun impair your judgement of others.
Life lesson No 6 – I'm getting old!
Lastly, standing (and dancing) for five hours didn't help the arthritis in my knees.  Oh the joys of getting older, but I'm on a mission now to do more exercise with Morten as my muse!
Do you enjoy people watching?  Has it taught you any important life lessons.  Let me know on my Facebook Page or on  Instagram
This week's meal plan:
Crumbed chicken, boiled new potatoes and coleslaw
BBQ honey pork steaks and curried rice salad
Salmon and asparagus parcels, Jacket Potatoes and salad
BBQ sausages marinated in a BBQ sauce with salad and flatbreads
Sweet and sour chicken with rice
Spagetti Carbonara
Wishing you all a wonderful week.
Don't forget to sign up for my free Newsletter here to get regular updates, news and tips.