This post may contain affiliate links – you will never be charged more for a product, but this website may receive a commission from any purchases made.  New Leaf only ever recommends products that we trust and use ourselves.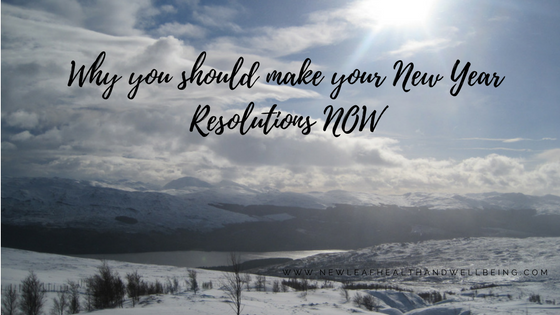 Hello Everybody
As the serious countdown to Christmas begins and we all become immersed in the stresses of gift shopping, cleaning, catering and entertaining, it's easy to lose sight of our healthy lifestyle goals.
So, this December, step back every so often and think about the bigger picture of your life.  New Year will be rapping on our door before we know it.  If we haven't been mindful about our health during December, we end up making the inevitable New Year resolutions of "lose weight – eat healthy – and exercise more".
Personally I think  January is a tough month to start sticking to austere resolutions.  We're all feeling flat after Christmas and the weather is dark, cold and gloomy.  Then on top of that we beat ourselves up that we aren't the perfect person we want to be.
So, why make your New Year resolutions in December?
Take time this month to reflect on who you are and where you are in your life.  What have been your greatest achievements this year.  Which areas of your life have you struggled with.  What changes would you like to make in your life.
Then, make a simple monthly plan with goals to improve on your successes and combat your struggles.  If you break down the changes you want to implement into monthly goals they will be much more achievable and not so overwhelming.  Last minute resolutions made on the strike of midnight will invariably be too huge and too vague to follow through on.
Thinking about your resolutions now will make you more mindful of your choices over Christmas.  Don't get me wrong, I fully endorse enjoying Christmas foods and indulgences – you know I have no willpower!  But, when you have a goal plan at the back of your mind, I think it's easier to temper your indulgences and maintain balance over Christmas.
Some recommendations to help with your Goals
Over the last year or so, I've signed up to the  The Business Bakery 100 Day Goal with the lovely Julia Bickerstaff.  It's completely free and she has a new session starting on the 1st January.  If you sign up now you can print off her beautiful goal planning sheets and prompts to help get you focusing on what you would like to achieve (whilst it's sort of aimed at businesses, you can adapt it for any goal).
By writing down your goal, you are much more likely to succeed.  You can also look back and track your progress as you go through the year.
If you're a small business owner looking to grow your business then I would thoroughly recommend Claire Mitchell, at the Girls Mean Business.  She has lots of lovely courses (free and paid for) suiting all types of businesses.  She is wonderfully down to earth and really understands the struggles small businesses face.  I purchased her 'Awesome Marketing Planner' last year and it helped me to focus on getting started on social media marketing.  She has a new, fully updated planner package available this year.
You get a physical planner/diary and a wall planner, but then on top of that you have an online portal with courses and information worksheets, weekly emails and a Facebook Group to connect with others.  I've put it on my Christmas wish list, so I'm hoping someone will buy me one!
If you want to check out the Awesome Marketing Planner click HERE
P.S. I couldn't wait and have ordered mine already in case stocks run out!
I'd love to hear what your New Year resolutions and goals are, or let me know what your successes and struggles have been for this year.
Either comment below or hop over to the New Leaf facebook page and leave me a comment.
Enjoy your Christmas preparations!