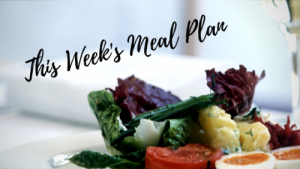 Hello Everybody,
I hope you've had a wonderful week and enjoyed some of the lovely sunshine that decided to show up!
Life just seems to get busier and busier and I know that for some families cooking at home almost seems impossible.  Research indicates that families from industrialised countries are increasingly eating out more than 4.5 times per week.  Obviously, this has huge implications on family budgets but eating out also plays havoc with family health.
6 Reasons why cooking at home is good for you
Research shows that if you cook at home up to five times per week you can increase your chance of being alive in 10 years by 47%.
Children who eat home cooked meals are less likely to be overweight, do better at school, have better relationships with friends and family and are less likely to drink, smoke or do drugs.  They also consume more fruit and vegetables.
You know precisely what ingredients are in your food and you should save money.
You can include your family in the planning, preparing and cooking process, helping to build family bonds and the social interaction of sharing a meal together.
Eating breakfast at home will help control your calorie intake and provide a nutritious start to your day.  Include foods like eggs, fruit, yoghurt, overnight oats and wholegrain toast.
Families who cook at home usually consume less fat, sugar and carbohydrates and therefore less calories.
The other important factor to 10x the benefits of home cooked food is to eat together as a family, at the table with no gadgets or TV.  Sharing a meal is an important time to interact, share your day and catch up.  It's a very simple habit which can have profound affects on the health of the whole family.
Research has shown that Dutch children are the happiest in the world.  The reason – they regularly eat breakfast together as a family.   Even though one of the staples of a Dutch child's breakfast is 'hagelslag' (chocolate sprinkles), they  still have the lowest rates of child obesity of all 29 industrialised countries surveyed by UNICEF.
Taking time to eat as a family is one of the best things you can do for your children.  So, sit down together and plan some meals to cook and share this week.
This week's meal plan:-
Paprika pork steaks, sweet potatoes and salad
Turkey pastitsio (pasta bake)
Salmon with creamy leek and dill sauce, new potatoes and steamed vegetables
Sweet and sour chicken with rice
Asian style turkey rissoles, coconut fried rice and salad
Sausages with satay sauce and salad
Spicy baked chicken and salad
I hope you all have a wonderful week.  Don't forget to join the New Leaf Newsletter for regular updates, tips and recipes.