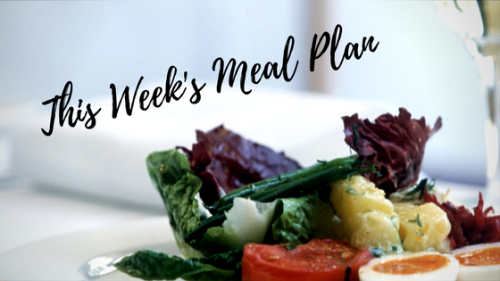 Hello Everybody,
My supersize challenge:
As I sit down to write this post, Britain is about to be hit by the second 'Beast from the East'.  So, I've got the wood-burner going and I'm hunkering down with the kids to weather out the storm.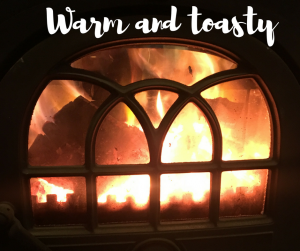 When it feels like Spring is never going to arrive, it's hard to rejuvenate healthy eating habits.  Winter just makes me crave carb loaded, stomach warming foods.  To balance out these calorie dense meals I try to ensure I'm eating enough fresh fruit and vegetables and cutting out sugary snacks.  To help me achieve this goal I've supersized our fruit bowl.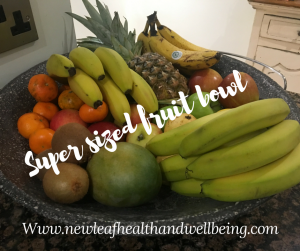 This is our weekly fruit bowl which has pride of place on the kitchen counter (there's also a stack of strawberries, raspberries, blueberries and grapes in the fridge).  It's fully visible to catch everyone's eye to encourage them to pick up a piece of fruit.  Any other snacks are hidden away in cupboards.
Did you know that 100 calories from an apple will have a completely different impact on your body compared to 100 calories from your favourite cookie?  All fruit contains important nutrients and vitamins which send signals to every cell in your body.  These nutrients trigger anti-inflammatory and anti-allergy processes in the cell.  In contrast, a cookie with 100 calories consisting of fats and sugar, triggers the opposite in cells causing inflammation and disease.  This is why calorie counting may help you lose weight, but it doesn't help maintain a healthy, disease free body.  Instead of purely focusing on weight loss, it's far more important to focus on ways to maintain a disease free body.  This is why food choices should be based on the nutrients they contain to boost health.  Regularly eating fruit is a super healthy habit to establish.
By having a fruit bowl visible it's easier to make eating fruit an everyday habit – when you're rushing out the door, you can grab a piece of fruit to take with you; when making lunch boxes, the fruit is there to remind you to pop some in; if you fancy something sweet after dinner, a piece of fruit can hit the spot.
So, my challenge to you this week is to 'super size' your fruit bowl and try to pick as many different fruits as you can to fill it with.
This week's meal plan:-
Parmesan crusted fish, sugar snap peas, tomatoes and potato wedges
Five spice pork and almond stir fry with rice
Pork steaks with smoked paprika, broccoli, peas and jacket potatoes
Sticky chicken, potato bake and salad
Cheese, spinach and leek tart with salad
Sausages with onion marmalade and mash
Chicken stir fry with satay sauce and rice.
I hope you have a super week and good luck with your supersize challenge!
If you want to receive regular updates from the New Leaf website signup up for the Newsletter HERE
If you want to share your supersize fruit bowl pictures head over to the New Leaf Facebook page HERE