Hello Everybody,
I trust you have had a good week.  I thought I would share with you a fruit loaf recipe to help with those mid morning munchies! This was the photo on the New Leaf Facebook page:-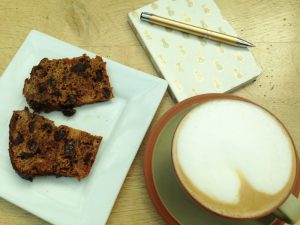 It makes an excellent snack with coffee or a cup of tea and was a big hit with the husband.  As it's full of fibre it helps to get a sluggish digestive system moving!.
Fruit Loaf Recipe
150g chopped dried apricots
150g dried cranberries, figs or sour cherries (whatever you prefer)
150g chopped pitted dates
150g raisins
2 cups of orange juice
1 teaspoon of bicarbonate of soda
¾ cup of brown sugar
2 eggs lightly beaten
2 cups of self raising flour
1 ½ teaspoons of ground cinnamon
1 teaspoon ground ginger
To Make:
Grease and line a 10 x 21 cm x 7cm deep loaf pan with baking paper.  Preheat the oven to 180°C.
Place all the dried fruit and the orange juice into a pan and cook, stirring over a low heat for about 20 minutes or until all the liquid has been absorbed.
This bit the kids might like helping with – stir in the bicarbonate of soda and watch the whole mixture froth up like a witches cauldron!  Leave to stand for 10 minutes.
Transfer the mixture into a mixing bowl and stir in the sugar and eggs.
Sift the flour and spices over the fruit mixture and gently stir until combined.
Spoon into the loaf pan and bake for 50 to 55 minutes or until a knife/skewer comes out clean.
Leave to stand in the pan for 10 minutes before turning out to cool on a wire rack or plate.  Serve sliced with your favourite drink!
This week's meal plan:-
Pork steaks with a pepper sauce, rice and peas
Red Thai chicken curry
Moroccan beef triangles, sweet potato wedges and salad
Sausage paprika pasta
Roast lamb and all the trimmings
Lamb tagine (from left over lamb roast)
I hope you have a super week.  Left me know if you have a go at making the Fruit loaf in the comments below or on the  Facebook page.
Don't forget you can sign up to our  FREE weekly Newsletter HERE